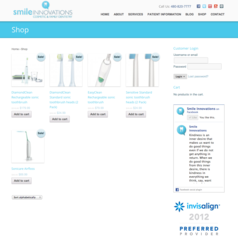 Smile Innovations has launched their new online store featuring Sincare
Tempe, AZ (PRWEB) December 01, 2012
The Tempe based family and cosmetic dentistry, Smile Innovations has launched their new online store where they are selling Sonicare toothbrushes and AirFloss. As the holiday season quickly approaches, Smile Innovations are making it easier to order the perfect gift for a friend or family member online.
Manufactured by Phillips, Sonicare, is the leading brand in dental products. The Sonicare toothbrush is unlike any other toothbrush because it is proven to help gum health in only two weeks. The toothbrush delivers quality results and provides a gentle touch on your teeth. Sonicare provides over four times more plaque removal than a manual toothbrush, helps improve gum health and whitens teeth in as little as one week.
Another great product available at the Smile Innovations online store is the Sonicare AirFloss, an alternative and first of its kind in flossing systems. The Sonicare AirFloss delivers a quick burst of air and microdroplets that gently and effectively clean in between the teeth. The AirFloss can clean between all teeth in less than sixty seconds and is proven to remove up to 99% more plaque when combined with the Sonicare toothbrush over manual toothbrushes.
Dr Boyd Patummas, DMD and Dr Linda Ma, DMD of Smile Innovations recommend Sonicare for continuous at home dental care. For More Information on Sonicare and the Smile Innovations online store visit, http://smileinnovation.com/shop/