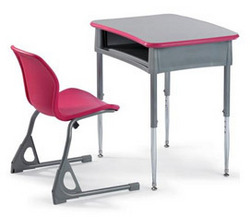 Mc Elhattan, PA (Vocus) February 20, 2010
Brodart Supplies & Furnishings, based in McElhatten, Pa., is introducing new Smith System Elemental Desks, perfect for complimenting any school or university setting and adding flair to any classroom.
Smith System's Elemental Desks provide a new, fun alternative to traditional student desks. The desks still include all of the features that a desk requires, from pencil trays to book boxes and plenty of surface space, but now come in a wide range of color choices. The desks are available in ten surface colors, all of which simulate a textured surface. The desk edges, book boxes, and legs are available in sixteen colors, with one sure to match any room's décor, or match any school's colors to inspire school spirit and pride.
To take a look at Brodart's collection of Smith System Elemental Desks.
ABOUT BRODART CO.
Since 1939, Schools and Libraries alike have turned to Brodart Supplies & Furnishings for everything to keep their libraries running smoothly. From book covers and book supports to kids wall murals, Brodart Supplies & Furnishings is a one stop shop for all your library supplies. From humble beginnings, Brodart has grown to become an international company, serving libraries from the Northwest Territories to the Pacific Rim, with facilities in the United States and Canada. Brodart truly has evolved into a full-service library supply company. For additional information about Brodart Supplies & Furnishings, please visit shopbrodart.com or brodart.ca for our Canadian users, or call 1.888.820.4377 in the United States or 1.800.265.8470 from Canada.
# # #