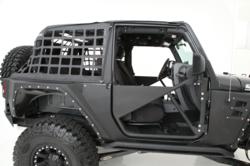 Smitty's son Tom took over the company and renamed it "Smittybilt," growing its production capacity.
Compton, Calif. (PRWEB) June 20, 2012
Transamerican Auto Parts is launching a website dedicated to distributing an extensive line of products from Smittybilt, a leading manufacturer in the aftermarket auto parts industry. The new site will also feature comprehensive reviews, informative articles, and product videos to keep customers informed about Smittybilt product selection, installation, and use. With Smittybilt Depot, Transamerican Auto Parts is establishing a one-stop web presence for customers and enthusiasts.
Smittybilt began in the garage workshop of founder Basil "Smitty" Smith in 1956. To meet the demand of a growing market of off-road enthusiasts, Smitty created custom fabricated parts for ex-military Jeeps to hit the trails safely and effectively. He named the original company "Rock-ett Productions," which quickly grew in size and popularity.
Originally, Rock-ett Productions distributed its products directly to dealers to create custom off-road option packages for new Jeeps. Smitty's son Tom took over the company and renamed it "Smittybilt," growing its production capacity. Along with this growth, Smittybilt naturally expanded the range and number of products that it offered, including truck equipment to its inventory of Jeep products, and the original Nerf step bar.
Smittybilt's extensive product line includes everything an enthusiast needs to outfit an off-road vehicle. The Smittybilt line includes winches and winch accessories, bumpers, body armor, Jeep tops, grilles, grille guards, seats, seat covers, storage options, tow hitches and accessories, lift kits, suspension kits, wheels, tires, and body accessories. The products in Smittybilt's inventory are built tough, yet set at a price point that is accessible to the average off-road enthusiast. Smittybilt Depot will provide a valuable resource for consumers, from tech advice to establishing an online community.
About Smittybilt Depot: Smittybilt Depot has the largest selection of Smittybilt products in the marketplace. The retailer focuses on providing in-depth product, installation, and usage information to consumers so that each customer can get the most out of Smittybilt's entire line of products.
About Transamerican Auto Parts: Transamerican Auto Parts has served the automotive aftermarket for more than 50 years. Represented by a combination of online, mail-order, and face-to-face retailers, Transamerican Auto Parts is dedicated to finding new ways to serve automotive enthusiasts.