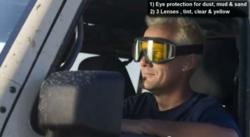 We sponsored the King of the Hammers races… So we came out with new trail goggles that everyone needs.
Las Vegas, NV (PRWEB) January 16, 2013
Leading manufacturer of aftermarket off-roading equipment and accessories 4 Wheel Parts unveiled their Smittybilt trail goggles at the SEMA 2012 Show. Smittybilt's must-have goggles are designed to meet the demands of serious off-roaders and feature three replaceable lenses accommodating the varying light conditions enthusiasts will inevitably encounter on the trail.
Responding to off-road vehicle owners, Smittybilt noticed the perfect chance to fill a need after last year's annual King of the Hammers in the desert of Johnson Valley, California. "We sponsored the King of the Hammers races and found out that while the crew was out there having fun in the dust, conditions were extremely dusty," says Smittybilt Operations Manager Glen Kukula. "So we came out with new trail goggles that everyone needs."
The goggles' standout feature is its three-in-one lenses. Three replaceable lenses – tinted, clear, and yellow – come in handy in different light conditions. The tinted model is ideal to have on hand for daytime use in intense sun. Clear protective goggles are perfect for cloudy days, and Smittybilt's yellow design is optimal for nighttime use.
Other premium characteristics of the goggles include a TPU frame and a PC high anti-impact lens. Anti-impact lenses are prized by off-roaders encountering a variety of situations and challenges. The added anti-fogging capability is essential in climates ranging from hot and dry to humid and wet, and the goggle lenses are anti-scratching.
Smittybilt has also integrated a dust cover for protection and preserving the goggles so they are fresh every time off-roaders hit the trail. These CE-approved, ANSI-certified trail goggles are among the many accessories for truck, Jeep and ATV drivers offered by 4 Wheel Parts to satisfy the ever-growing demands of off-road enthusiasts.
About 4 Wheel Parts: 4 Wheel Parts is a retailer and service provider specializing in aftermarket parts for off-road and 4x4 enthusiasts. With 56 locations nationwide, 4 Wheel Parts supplements its retail centers with a robust mail-order and e-commerce distribution network to serve customers around the country and around the world. 4 Wheel Parts carries a large inventory of truck and Jeep parts, including Rubicon Express lift kits, tonneau covers, tires, winches and more.