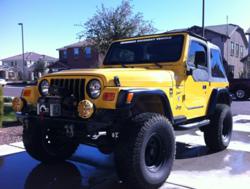 Team 4 Wheel Parts welcomes those who join the team by entering them into a monthly drawing that awards lucky winners with $500 promo cards.
Compton, CA (PRWEB) February 27, 2013
4 Wheel Parts, prominent retailer and service provider of aftermarket parts for off-roaders, holds drawings that award lucky winners with $500 promo cards. Team 4 Wheel Parts welcomes those who join the team by entering them into the monthly drawing. Entering is easy – users visit the Team 4 Wheel Parts entry page and share their photos and videos. Members of the community give and get advice and showcase their vehicles – trucks, Jeeps, ATVs – anything 4x4.
The latest winner announced was Will Hansen, whose name was selected from hundreds of entries who joined Team4WheelParts.com. Hansen's profile appears on the page along with his 2001 Wrangler. "I bought my Jeep when I returned from Iraq in 2005 and have been building her up ever since," explains Hansen. "I've never had a single problem with it other than the normal wear and tear. I love taking her down to 4 Wheel Parts in Mesa to see what new stuff they have for me to buy even though the wife doesn't like it too much."
Jeep accessories and upgrades Hansen installed on the Wrangler include:

A 4 inch Pro Comp Lift Stage 3 lift
An XRC 8 Smittybilt Winch
33 × 12.50 BFG All Terrains
KC HiLites Daylighters
A Bestop Trek Top
Headed by the company's CEO & President Greg Adler, Team 4 Wheel Parts is a collection of off-road experts who sell, own, and live the off-roading way of life. In addition to Adler, the team includes racers Robby Gordon and Brian Deegan. The team is heavily involved with events and causes near and dear to the off-road community's collective heart, including the King of the Hammers race, the effort to Save the Hammers, Operation Lightsabre, and Truck & Jeep Fests. Team 4 Wheel Parts also sponsors Off-Road Adventures, a monthly online magazine for enthusiasts with content that features Product Reviews, Buyer's Guides, Tech Tips and videos.
About 4 Wheel Parts: 4 Wheel Parts is a retailer and service provider specializing in aftermarket parts for off-road and 4x4 enthusiasts. With 59 locations nationwide, 4 Wheel Parts supplements its retail centers with a robust mail-order and e-commerce distribution network to serve customers around the country and around the world. 4 Wheel Parts carries a large inventory of truck and Jeep parts whether enthusiasts are looking for a tonneau cover, lift kit, Pro Comp wheel, or other accessories.