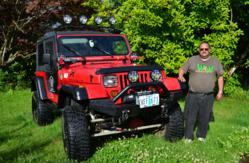 I got an email telling me I'd won, and I thought it couldn't be right. That weekend the Portland 4 Wheel Parts store had an event so I took the email in. They confirmed that I'd won and I was totally in shock.
Compton, CA (PRWEB) June 25, 2013
Prominent industry retailer of aftermarket parts for off-roading, 4 Wheel Parts, has named a new monthly winner through its Team 4 Wheel Parts website. David Jennings of Aloha, Oregon was awarded a $500 promo card for entering the drawing and showing off his 1991 Jeep Wrangler affectionately dubbed "The Ugly Duckling." David shops for Jeep accessories at the local 4 Wheel Parts store in Portland, and was thrilled when he heard he was selected as the contest winner.
"I was really surprised to win because I don't usually enter contests too often," says Jennings. "I buy raffle tickets at events to support causes, but I'm not much of a gambler." His daughter originally named the Jeep "The Ugly Duckling" when they saw it on the car lot, but she told him that someday he would transform it into a pretty swan.
When Jennings saw the email telling him he'd won, he thought it couldn't be right. "That weekend the Portland 4 Wheel Parts store had an event so I took the email in to the store. They confirmed that I'd won and I was totally in shock."
Team 4 Wheel Parts contest entrants send in pictures of their Jeeps or trucks along with stories about the parts and accessories they want as upgrades. Parts and Jeep accessories Jennings longed for included bumpers, a soft top, and a lift kit.
"I drove the Jeep stock for four months and it had no flex or anything," says Jennings. "When I decided to start upgrading I wanted to go safety first so I shopped for new front and rear bumpers." Initially, Jennings had a hard time deciding between Smittybilt winches and elected to go with the XRC-10.
Among his 1991 Jeep Wrangler upgrades were:

Bestop Highrock 4×4 Front and Rear Bumpers
Smittybilt XRC-10 Winch
Pro Comp Series 152 Wheels
Rubicon Express SOA (Spring Over Axle) Lift
With the $500 contest award, Jennings plans to do a few smaller upgrades. New springs, automatic deflators, shackles, and a radio are on the short list of items he plans to buy. "My friends with Jeeps are looking forward to seeing the Ugly Duckling after it's done," he says.
Team 4 Wheel Parts is helmed by company CEO & President Greg Adler. Off-road experts Robby Gordon and Brian Deegan are parts of the racing team who sell, own, and live the off-roading way of life. The King of the Hammers race, the effort to Save the Hammers, Operation Light Sabre, and Truck & Jeep Fests are among the causes the team is committed to. Additionally, Team 4 Wheel Parts sponsors Off-Road Adventures, a monthly online magazine for 4x4 enthusiasts with content featuring Product Reviews, Tech Tips, Buyer's Guides, and videos.
About 4 Wheel Parts: 4 Wheel Parts is a retailer and service provider specializing in aftermarket parts for off-road and 4x4 enthusiasts. With more than 60 locations in North America, 4 Wheel Parts supplements its retail centers with a robust mail-order and e-commerce distribution network. 4 Wheel Parts carries a large inventory of truck and Jeep parts, including running boards, protective parts and Rubicon Express shocks. The toll-free order number is 877-474-4821.