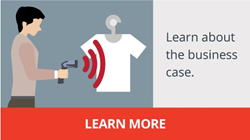 Our goal with these innovative purchasing models is to reduce as many barriers to adoption of RFID technology, provide retailers with flexibility and fast ROI realization
Dallas, TX (PRWEB) July 13, 2016
Today, leading RFID technology and total brand identification solution provider SML announced three new flexible purchasing models to help retailers accelerate adoption of RFID technology, reduce upfront costs and realize a faster return on investment (ROI). As more and more retailers across the U.S., Europe and Asia recognize how RFID improves elements of inventory efficiency throughout the supply chain, adoption of the technology is intensifying. SML will encode and deliver over 1Billion RFID tags and will have over 5Billion RFID transactions on its Clarity™ software platform in retail deployments in 2016.
SML offers a unique RFID technology value proposition to retailers by offering a broad spectrum of state of the art RFID technology and complete RFID solutions, including strategic and implementation professional services, retail RFID tags and labels, and hardware and software solutions. The addition of the three new flexible purchasing models is a natural extension of SML's commitment to bringing to market flexible offerings that are focused on better servicing customers.
The three SML RFID purchasing models now available include:

SML Full Solution Capital Purchase Model: Full Clarity™ RFID solution (software, hardware and services) purchased up front and capitalized. RFID Tags/Labels would be purchased following traditional sourcing models.
SML Monthly Solution as a Service (SaaS): This flexible SaaS model provides retailers with the Clarity™ RFID software and solution support for a monthly fee and pay for RFID hardware and implementation services up front on a capital purchase model. RFID Tags/Labels would be purchased following traditional sourcing models.
SML Solution Bundled in the Tag (BiT): This innovative purchasing model incorporates all the Clarity™ solution costs bundled into an extended RFID tag contract price with zero upfront costs, putting all of the solution costs as part of Operations Expenses (OpEx). This option is designed to provide the fastest ROI and generate the fastest returns, eliminating a common barrier to adoption of RFID into retail stores.
"We are excited to bring SML's full capabilities to customers with our new flexible purchasing models for RFID solutions," said Dean Frew, CTO and senior vice president of RFID Solutions of SML Group. "Our goal with these innovative purchasing models is to reduce as many barriers to adoption of RFID technology, provide retailers with flexibility and fast ROI realization."
SML's Solution Bundle in the Tag (BitT) offering is targeted at vertically integrated retailers and brand owners best positioned to fully realize the value of a complete RFID solution from their technology partners. With more RFID service bureaus than any other provider in the world, SML can supply most retailers' factories locally, "close to the needle," and one of the most proven retail RFID software solutions in the world with support in place US, Europe and Asia SML has put the pieces in place to be the leading technology provider for this new era in retailing.
To meet the needs of its customers and varied retail business models, SML offers free RFID consultations to help retailers determine which purchasing model and solution best suits their business needs, whether they want to purchase the technology solution upfront, prefer a pay-as-you-go model, or something in-between. For more information on SML RFID and its three new flexible purchasing models, visit http://www.sml-rfid.com or send a note to info(at)sml-rfid(dot)com .
About SML RFID
As the leading full-service RFID solution provider, SML is a trusted partner to the world's largest retailers and top fashion brands, delivering proven results and rapid ROI for our customers. SML offers a broad spectrum of certified RFID-enabled labels, tags, stickers and inlays from the largest global network of source-tagging service bureaus. SML Intelligent Inventory Solution's Clarity™ enterprise-class platform has best-in-class features and functionality for RFID deployment in-store and throughout the retail supply chain.
SML has successfully delivered RFID technology to many of the world's most successful retailers. With a presence in more than 30 countries, unparalleled deployment expertise and highly trained support personnel, SML is the leading technology provider for the new era in retailing, Retail 3.0. Visit the SML RFID website at http://www.sml-rfid.com.