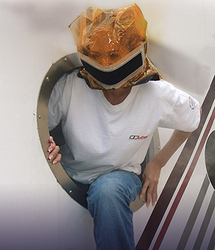 a better chance of survival
Olympia, WA (PRWEB) October 22, 2009
Fact: 80% of fire fatalities are due to smoke inhalation. AirCare International LTD has created "a better chance of survival" from deadly toxic gases and inhalation of insidious smoke by designing the AirCare Smoke Escape Hood. In shaping a compact, easy-to-use packaging of the Smoke Escape Hood, AirCare has significantly increased the time of survivability for those needing precious minutes to protect themselves from dangerous smoke and combustion fumes.
"Over the past 25 years", notes Doug Mykol, AirCare International CEO, "the common goal of our five companies has been to improve safety within the operating environment of corporate aviation. With the introduction of the AirCare Smoke Escape Hood, corporate crewmembers and passengers substantially increase their chances of survival in life threatening situations. Continual upgrades on innovative training devices, enhanced curriculum and improved safety products has positioned AirCare International as the leader of emergency procedures and safety training in the world of corporate aviation."
The AirCare Smoke Escape Hood, enables people the opportunity to rescue themselves by providing up to 20 minutes of protection for the eyes and airways by filtering toxic smoke and harmful particles through alternating layers of highly efficient activated carbon and fabric.
This vacuum sealed, state-of-the-art portable evacuation mask fits into a passport style case for convenient storage at home, work or travel with simple instructions on the package. The universal size hood is adjustable to any head size, can be quickly donned in seconds, allows 360-degree peripheral vision and unimpeded communication, all of which are crucial to a successful evacuation.
AirCare employs cutting edge technology to produce this industry leading smoke escape hood, including an advanced NASA approved Polymide film, which resists heat up to 932 degrees Fahrenheit. Manufactured exclusively for AirCare International, LTD, the AirCare Smoke Escape Hood currently has a shelf life of five years.
For further information on the AirCare Smoke Escape Hood, call 360/754-9805 or visit: http://www.aircaresolutionsgroup.com
# # #