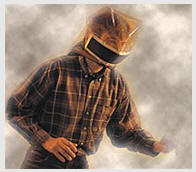 Rescue yourself, then rescue others.
Tarzana, CA (PRWEB) November 15, 2011
First Aid Global remains the only US distributor of the award-winning HK Smoke Escape Hood. Made of NASA-grade DuPont Kapton Polyamide Film, the hood resists high temperatures to 450 degrees Celsius so it won't melt or distort while evacuations occur.
A company spokesman says, "The six layers of ionized activated carbon filters provide a minimum of 20 minutes of protection from heavy, toxic smoke, more than enough time to get out of a burning building. The hood comes sealed in a pocket-sized pouch and it fits children as well as adults."
The Smoke Escape Hood is one of many Emergency Preparedness Products found on First Aid Global's wholesale website. They feature Go-Bags, Emergency Pet Kits, Sports First Aid Kits and Earthquake Survival Gear.
"We've sold the Smoke Escape Hood to families, high-rise office buildings and cargo ships around the world," he goes on to say, "and at just $32.00 each, it's inexpensive enough to purchase quantity. We believe our Smoke Hood is the most versatile escape device on the market today. It can be taken on airplanes and ships as well as used to safely evacuate both chemical plants and office buildings."
First Aid Global is a full-service First Aid, Safety and Emergency Preparedness company in Tarzana, CA that has been in business 15 years restocking First Aid Cabinets, Safety Gear and Food Service Gloves and servicing Eye Wash Stations as well as providing CPR and AED Training. Their line of Earthquake Preparedness Kits have expanded to include customers in all 50 states, including disaster preparedness for tornados, hurricanes, fire and smoke escape, and emergency blackouts or power failures on their new website http://www.PowerSurvival.com. For more information, visit their wholesale website at FirstAidGlobalWholesale.com or call them toll free at 866-305-1753.
# # #