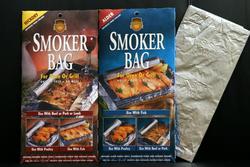 Although the bags will also work on a grill, we are very excited to be able to offer this unique alternative to solve the problem for those who can't grill outside
Nashville, TN (PRWEB) July 9, 2009
Realm Enterprises, Inc. a national distributor for cooking and kitchen products, recently began targeting apartment dwellers with their SAVU Smoker Bag line, which can be used in an oven for those who are prohibited from grilling on a patio or deck.
The lining of this patented, oven-safe roasting bag is coated with natural ingredients that give roasted meat, poultry or fish that smokehouse flavor. Each bag holds approximately 2 1/2 pounds (1kg) of food and cooking times vary from 15 minutes to 2 hours, depending upon the type of food being cooked. Available for all types of fish, meat or vegetables, with a choice of alder (mild smoked) or hickory wood (medium smoked) flavor. "The smoker bags are great for the apartment dweller or students because they work in an oven or on an electric griddle with temperature ranges up to 400 degrees, making them perfect for those who can't grill outside due to fire code restrictions," said Jennifer Honeycutt, President Realm Enterprises, Inc.
The National Fire Protection Association Code 1.10.11.7 includes: For other than one-and two-family dwellings, no hibachi, gas-fired grill, charcoal grill, or other similar devices used for cooking, heating, or any other purpose, shall be used or kindled on any balcony or under any overhanging portion or within 10 ft. (3 m) of any structure.

In 2003-2006, U.S. fire departments responded to an average of 7,900 home fires involving grills, hibachis or barbecues per year, including an average of 2,900 structure fires and 5,000 outside fires. These 7,900 fires caused annual average of 10 civilian deaths (to the nearest ten), 120 reported injuries and $80 million in direct property damage.
One-third (33%) of the home structure fires involving grills started on an exterior balcony or unenclosed porch, 18% started on a courtyard, terrace or patio, and 11% started on an exterior wall surface.
According to the National Multi Housing Council there are over 17,389,000 apartment units in the US. "Although the bags will also work on a grill, we are very excited to be able to offer this unique alternative to solve the problem for those who can't grill outside," Honeycutt said.
For additional information on the news that is the subject of this release, contact Jennifer Honeycutt, Realm Enterprises, Inc.
About Realm Enterprises, Inc.
Realm was established in 2005 and is an importer and national distributor for kitchen and cooking products including the SAVU Smoker Bag and PEAKfresh Produce Bags.
Contact:
Jennifer Honeycutt, President
Realm Enterprises, Inc.
615-495-9777
http://www.SmokerBags.com (http://www.HotDiggityCajun.com)
###