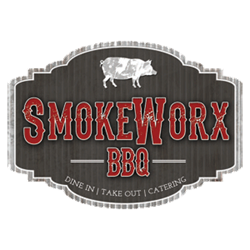 "Taking an idea and then transforming it into a restaurant is something that I truly enjoy," says Mychael. "I just really enjoy the planning, decorating and challenges in setting up new restaurants."
Fort Dodge, IA (PRWEB) June 23, 2015
A meal enjoyed by guest at SmokeWorx actually starts three to eighteen hours before it is served. Hand rubbed meats are put on racks and then are smoked to perfection. Ribs, brisket, chicken, sausage, pork chops and even catfish are found on the Kansas City style barbecue menu. Even RAGBRAI 2015 listed SmokeWorx as the stop to make while traveling through Fort Dodge on the route in July.
SmokeWorx offers the best quality of service and locally sourced ingredients that are prepared on-site. Diners will not find their smoked food has been stored in a cooler. Everything offered is homemade and that includes the five different barbeque sauces.
The abandoned former Long John Silver location has been totally redesigned to enhance the barbecue atmosphere with wooden booths and corrugated steel. The entire area has been rejuvenated with new landscaping, ramp entrance and siding to fit in with the Fifth Avenue South Corridor revitalization.
The Fort Dodge-based Infinity Restaurant Group is owned and operated by a twenty-five year old entrepreneur, Mychael Mueller. There are two other very popular area restaurants, Community Pizza and Sneakers, which are also part of the group. Community Pizza is a third generation establishment that is a popular stop for pizza and fun while Sneakers is a sports bar atmosphere and outdoor seating dining experience.
Stephen Larsen, is the director of operations for the group and currently spends most of his time with the new SmokeWorx location.
The catering business with the Infinity Restaurant Group has become another major part of the enterprise. Every day, the group caters over 600 meals and has the ability to provide hundreds more. The director of catering is Tony Faro. With the diversity of the restaurants, Tony and the staff provide a variety of catering options for customers.
"Taking an idea and then transforming it into a restaurant is something that I truly enjoy," says Mychael. "I just really enjoy the planning, decorating and challenges in setting up new restaurants."
A SmokeWorx Grand Opening Celebration is planned for Thursday, June 25th. Special menu offers for the day include a pork chop dinner, one-half rack dinner and a family meal pack. Guest will be able to enjoy $1.00 draws of the three featured tap beers, Golden Coin, Bud Light and Westo Coco Stout. A ribbon cutting will be held at 4:00 pm and followed with free mechanical bull rides for the public. Giveaways include Boston concert tickets for June 26th in Fort Dodge, Vic Ferrari Band tickets for August 8th and Adventureland tickets good for the 2015 season.
SmokeWorx is located at 407 South 25th Street, Fort Dodge, Iowa. Hours of operation are 11 am to 10 pm, seven days a week. For more information and a menu visit the website at http://www.smokeworx.com or call 515-573-0227