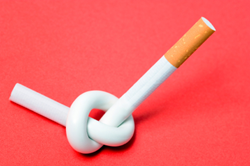 Gingivitis may sound like the least of worries for smokers but in reality it is increasingly seen as a precursor to more serious conditions such as heart disease.
Bounemouth, Dorset (PRWEB UK) 28 February 2014
Oral health experts are highlighting the gum disease risks posed by cigarettes in the run-up to national No Smoking Day.
Smoking's major health risks are well documented but less well known are the links to gingivitis (gum disease) and tooth loss.
The manufacturers of Eludril mouthwash and Elgydium toothpaste have renewed warnings ahead of No Smoking Day on March 12.
"Gingivitis may sound like the least of worries for smokers but in reality it is increasingly seen as a precursor to more serious conditions such as heart disease," said a spokesperson for Eludril and Elgydium.
"Various studies around the world over recent years have linked the bacteria that cause gum disease with conditions elsewhere in the body."
The latest warning from Eludril and Elgydium follows a new report (1) from the British Heart Foundation which highlights how much damage even one or two cigarettes per day can do.
Smoking between one and four cigarettes daily can treble the risk of dying from heart disease, says the BHF report.
The spokesperson for Eludril and Elgydium said: "This makes worrying reading given what we already known about the links between smoking, heart disease and gingivitis."
Smoking is a key risk factor in gum disease. It can also make it more difficult to treat the problem, warn the mouthwash and toothpaste manufacturers.
Diagnosing gingivitis is usually easy because there are plenty of warning signs such as redness, soreness or inflammation in areas of the gums.
What is harder is persuading people to take action at the earliest opportunity because many tend to ignore the early indications.
They may even discount obvious signs such as flecks of blood on the teeth, gums or on the toothbrush – and by this time the problem may be more advanced.
Regular dental checks are important because dealing with gingivitis is simple if the problem is caught early, preventing or minimising any pain or long term damage to the gums.
Dental professionals all over the world have for decades recommended chlorhexidine as the number one treatment.
Eludril is a chlorhexidine mouthwash with a proven track record. It can be used as a short term treatment when gum disease is identified. Eludril is also available as a spray where stronger pain relief is needed.
Elgydium is a chlorhexidine toothpaste which can be used daily to help prevent or treat gingivitis. It is available with Anti-Plaque, Whitening or Decay Protection.
For further details about Eludril mouthwash and Elgydium toothpaste, contact Lindsay Revill at Ceuta Healthcare on +44 (0)844 243 6661.
(1) Just One Cigarette A Day Trebles Heart Risk, Daily Mail, 26 February 2014
-Ends-
Notes For Editors
Eludril and Elgydium are represented in the UK by:
Ceuta Healthcare Ltd
Hill House
41 Richmond Hill
Bournemouth
Dorset
BH2 6HS
Tel: +44 (0)844 243 6661
Eludril Mouthwash is an antibacterial and analgesic solution which can be used to manage a number of oral health problems.
Its main use is to treat and prevent dental plaque formation and gum disease (gingivitis, also known as periodontitis) by preventing the build-up of bacteria.
Eludril Mouthwash can also be used to maintain oral hygiene in situations where tooth brushing is difficult, for instance, following oral surgery or in physically or mentally handicapped patients.
Eludril can also be used as a disinfectant for the cleansing of removable dentures and in the management of common mouth ulcers and oral candidiasis infections (fungus infections).
Elgydium Anti-Plaque toothpaste is specially formulated for sensitive gums and helps to prevent dental plaque and tartar build-up, the major causes of tooth decay and gum disease.
Elgydium Whitening and Decay Protection are also available as part of the Elgydium range of toothpastes.