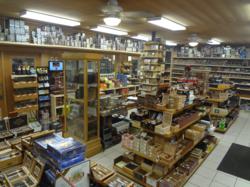 I'm extremely proud of the sales we posted for this holiday season, but we're not going to rest as we continue to strive to provide the premier online tobacco shopping experience for smokers all over the world.
Albany, NY (PRWEB) December 28, 2012
PipesandCigars.com is a leading online tobacconist, specializing in offering the web's widest selection of the best cigars, humidors, pipes, pipe tobacco, and smoking accessories. The holiday gift-giving season is typically a very busy one for online cigar and tobacco distributors, and the months of November and December are the months with the highest sales volumes of the year. Cigar sampler packs, cigar gift items, and tobacco smoking pipes are frequently given as gifts during the holidays. PipesandCigars.com has reported that for November and December of 2012, their sales have increased by 53.13% over 2011's November and December months, which were the company's previous high-water mark for holiday sales.
This large increase is highlighted by the fact that tobacconists operating in the state of New York face a number of obstacles. The state's tobacco taxes are among the highest in the country at 75%, making the cost of storing and stocking inventory astronomical. Additionally, the current state of the economy and large amount of competition for the online cigar and pipe business makes their business model especially challenging.
"We have a lot working against us in the state of New York, but we are hard workers and we put a tremendous amount of energy into being the best at what we do" Said PipesandCigars.com owner Scott Bendett. "I have surrounded myself with a wonderful staff of very talented and experienced people, and by utilizing my own skill-set as well as the skill-sets of my staff we've been able to achieve sales numbers that many vendors, customers, and industry insiders told us were impossible. It is very satisfying to overcome the obstacles we face daily in this business to achieve the level of success we've attained. I'm extremely proud of the sales we posted for this holiday season, but we're not going to rest as we continue to strive to provide the premier online tobacco shopping experience for smokers all over the world."
While cigar sampler packs, cigar gift sets, smoking pipes, and pipe gift sets were among the best selling items, the company also saw growth from a variety of other brands and items during the holiday season. Cigar humidor sales showed an increase, as well as increases from Padron cigars, Oliva cigars, Arturo Fuente cigars, Peterson pipes, Bjarne pipes, Estate pipes, Lane Limited tobacco, McClelland tobacco, and Hearth & Home tobacco - PipesandCigars.com's own house brand that features over 60 different tobacco blends.
"I was absolutely thrilled when we calculated out the sales data for this holiday season." Said Marketing Director Travis Lord when asked about the large sales increase, "I give a whole bunch of the credit to our terrific customer service department and our lightning-fast order fulfillment. Our phone reps are able to utilize their expert knowledge of our products to recommend the perfect gift for any type of smoker, even to a gift-giver without any knowledge of pipes or cigars. Our order fulfillment team was working unbelievably hard to meet our same-day shipping commitments, and that inspires confidence in customers who need gifts delivered on a certain date. Given the increased volume of orders they had to process I think they did a phenomenal job. While we all like to see big sales numbers, the most satisfying part for me is knowing how happy each customer was. I know that we delivered quality products, in a timely fashion, at a great value. This combination ensures they are satisfied with their purchase and come back next year."
PipesandCigars.com is poised to continue their increased sales into 2013, with consistent upgrades to their website, continual addition of new product lines, and their firm commitment to maintaining the lowest prices available online. People interested in learning more about the company should visit PipesandCigars.com or call their customer service department at 800-494-9411.
About PipesandCigars.com: PipesandCigars.com is an industry-leading online tobacconist dedicated to bringing customers the widest selection of cigars, pipes, pipe tobacco and tobacco accessories. The company features premium cigars from brands like Ashton cigars, Montecristo cigars, Macanudo cigars, CAO cigars, and many more. They are the low-cost leader in pipe tobacco on brands like GL Pease, Sam Gawith, Captian Black, Borkum Riff and many more. They feature thousands of pipes, ranging from inexpensive Corn Cobs and Dr. Grabow pipes all the way to the premium brands like Dunhill and other fine hand-carved pipes.