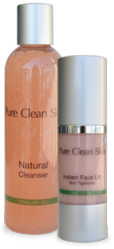 Pure Clean Skin's New Instant Face Lift will smooth out wrinkles around your eyes and face and is now available with a free Natural Facial Cleanser
(PRWEB) April 26, 2012
Natural health and beauty products company, True Healthy Products has recently released a new line of skin care called, "Pure Clean Skin" which features a skin tightener that gives instant results called the "Instant Face Lift". For a limited time, a free gift of the Natural Cleanser from Pure Clean Skin is available with purchase.
The company has published some amazing videos showing the real time results of the Instant Face Lift. To watch visit http://www.purecleanskin.com/custom/instant-face-lift-by-pure-clean-skin/
The natural products based company released the new Pure Clean Skin line for 2012. The Pure Clean Skin Instant Face Lift comes in a one ounce pump dispenser, and provides 6-8 hours of youthful tightening of the face. The long term effects are the stimulation of more elastin and collagen while strengthening all facial skin layer, according to the company's formulator.
True Healthy Products is offering for a limited time, their Pure Clean Skin "Natural Cleanser" for free with the Instant Face Lift skin tightening cream. The Natural Cleanser will provide deep cleansing to your face and is free of Sodium Lauryl Sulfate. Together the products will smooth out wrinkles and naturally moisturize the skin.
For more information about Pure Clean Skin and the Instant Face Lift limited time offer visit the company's website at http://www.purecleanskin.com.
True Healthy Products
2460 N. Courtenay Pkwy, Ste. #210
Merritt Island, FL 32953
USA
888-400-2920