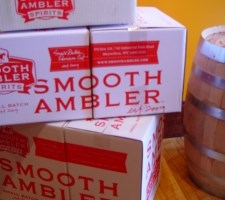 We're thrilled to continue our expansion with the addition of this beautiful new still
West Virginia (PRWEB) April 13, 2011
Smooth Ambler Spirits, West Virginia's luxury handcrafted whiskey, bourbon, and vodka distillery, is excited to announce its acquisition of a second still from premiere American still maker Vendome Copper and Brass Works. The new still is also accompanied by the purchase of two fermentation vessels, and is part of Smooth Ambler's recent expansion into becoming a larger and more widely distributed distiller of spirits.
"We're thrilled to continue our expansion with the addition of this beautiful new still," said Vice President John Little. "Vendome worked with us to create a whiskey still perfect for Smooth Ambler: it's larger than our first still, and is designed specifically to help us refine the flavors for our lower proof alcohols – meaning barreled whiskey."
In addition to the new still, Smooth Ambler also purchased two new fermentation vessels, doubling the distillery's ability to produce the handcrafted, high end spirits for which they are so well known.
The addition of this equipment will allow Smooth Ambler to increase its grain usage to approximately 150 tons a year. In keeping with its tradition of using domestic ingredients and approaching each facet of its business with local perspective, Smooth Ambler donates its spent grain to a local farmer in West Virginia who uses it for feed and compost.
As part of Smooth Ambler Spirits' ongoing expansion, the distillery is looking forward to the release of its aged bourbon, which is scheduled to be ready for distribution in July of 2011. The acquisition of the new still and fermentation vessels supports Smooth Ambler's exciting growth.
About Smooth Ambler Spirits
Located in the rural Greenbrier Valley and dubbed "West Virginia's world-class hooch," Smooth Ambler Spirits uses state-of-the-art distillery equipment in conjunction with natural resources of the region: high-valley mountain air, natural waters, ideal temperature variations and friendly folks. These elements, combined with a hands-on, grain-to-glass distilling, cutting and filtering process, create a truly remarkable drink best enjoyed one slow sip at a time. It is a fact that Smooth Ambler Spirits are now produced at the highest and purest level possible anywhere in the world.
###