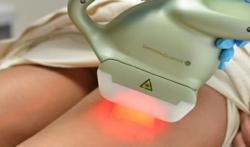 Women come in for our SmoothShapes treatment to battle their cellulite but their ultimate goal is beautiful, flawless skin from head to toe.
New York, NY (PRWEB) April 18, 2013
Sensitive Touch Medical Spa in New York recently combined the SmoothShapes Anti Cellulite Treatment with SilkPeel Body Dermalinfusion and has found that this combination delivers better long-term cellulite reduction and smoother skin texture compared to other cellulite treatments or if each of the treatments were performed alone.
Cellulite is a skin condition that occurs in the vast majority of women. Cellulite is a protrusion of fat through the fibrous bands that hold the subcutaneous layer of fat together. SmoothShapes is a trademarked treatment that offers painless and non-invasive process utilizing laser and light techniques to improve the engorged fat cells and treat cellulite at its source. The technology that SmoothShapes uses is called Photomology and combines laser, light, vacuum and rollers to combat 4 different causes of cellulite (engorged fat cell, depleted collage, poor circulation, and toxins). It is the only treatment on the market that can claim that!
At Sensitive Touch Medical Spa in New York this revolutionary cellulite reduction treatment can be combined with SilkPeel Body Dermalinfusion. The SilkPeel treatment delivers combination therapy, which simultaneously provides exfoliation, vacuum massage, and Dermalinfusion and addresses the underlying cellular processes that bring about skin imperfections. The benefits of this treatment include improved skin texture, increased cell renewal, circulation and lymphatic flow. The SilkPeel also manipulates stretches, enhances underlying connective tissue, and hydrates the skin. "I have tried many cellulite treatments in the past, without seeing any significant improvement. They were all a waste of time and money. Skeptically I decided to try the SmoothShapes and Body SilkPeel Combo at Sensitive Touch. I have completed 8 sessions of SmoothShapes on the back of my thighs and 2 SilkPeel treatments and have to say that I am stunned with the great results. The cellulite has tremendously decreased and my skin never felt and looked silkier. Love it!" said Diana G, a recent client who tried this new treatment combination.
With both treatments combined they complement each other and boost the final result by addressing multiple causes of cellulite and improving the overall condition of skin. "Women come in for our SmoothShapes treatment to battle their cellulite but their ultimate goal is beautiful, flawless skin from head to toe" says Sabina Kozak, Spa Director at Sensitive Touch. "The only way you can deliver the results of nearly perfect skin on any part of the body is by targeting all of its imperfections, and if at the same time you are getting better cellulite reduction I say that is fantastic, and so do our clients."
Combination treatments are loved all over Hollywood by celebrities who are battling their dimples. At Sensitive Touch Medical Spa every woman can get the same star treatments and red carpet worthy results any time of the day. Because, as L'Oreal stated years ago: You are worth it!"