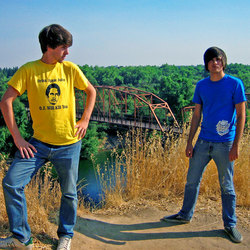 Most Popular Internet Celebrities of 2008
Santa Monica, CA (PRWEB) March 24, 2009
Anthony Padilla and Ian Hecox, trailblazers in the realm of online comedy as the universally recognized Smosh, take their next step in redefining entertainment for the Internet generation with the relaunch of their popular website Smosh.com.
The Sacramento-area 21-year-olds have grown their entertaining YouTube skits and parodies into an Internet phenomenon. With more than 216 million video streams to date, Smosh stands as the most-viewed comedy channel in YouTube history and the entertainment giant's third most-subscribed channel of all time. In January 2009, the Los Angeles Times recognized Smosh as the "Most Popular Internet Celebrities of 2008," citing a study by iStardom, which tracks web popularity through viewership on top social media sites like YouTube and MySpace.
Still, Smosh has only just begun.
Today, Padilla and Hecox - in conjunction with digital entertainment company DECA - launch an all-new iteration of Smosh.com, featuring a vastly improved user experience that offers enhanced interactivity, networking, gaming, and increased functionality over its original form. The result is a further realization of Smosh's initial goal - to build a destination that caters to their peers, who revel in creating, watching, and communing around online entertainment and video.
The package has changed, but the core values of Smosh remain the same. Padilla and Hecox never stray far from their homegrown comedic vision.
In 2005 Padilla and Hecox caught the attention of millions with their first attempts at online video - comedic lip-syncing parodies they uploaded to YouTube, one of which became the most-watched video on YouTube for six consecutive months. Building on their early success, Padilla and Hecox now produce two to three videos per month, each of which draws millions of views and spurs conversation amongst viewers worldwide. They have created 64 videos in all, many with related merchandise.
"We're totally stoked to launch the new site," Hecox says. "We've always had a vision for Smosh.com and now with a little help from our friends we've been able to create it."
Padilla adds: "We smoshed together all the things we loved about YouTube, Facebook and MySpace, then put them on our site, making it one of the coolest places to go on Earth."
"The changes we've made to Smosh.com today are just as we originally imagined with Anthony and Ian," Smosh President Barry Blumberg says. "The new site is responsive to the wants and needs of our audience, and builds upon what they began in a bigger, broader, better environment,"
Blumberg, a visionary in the field of youth entertainment with a successful track record heading Walt Disney Television Animation during its heyday, discovered Smosh on YouTube in 2007 and immediately recognized the duo's promise. As Smosh grew he saw value in uniting the unique, finger-on-the-pulse entertainment sensibilities of Smosh with DECA, a digital entertainment company focused on online audiences.
"DECA has been a key strategic partner in helping elevate Smosh.com into a more welcoming, user-friendly destination for teens and young adults," Blumberg says.
DECA announced its strategic investment in Smosh in October 2008 and has provided its corporate expertise, branding initiatives, and technology in the development of the new Smosh.com site, which joins DECA's innovated lineup of digital entertainment properties, including Momversation (http://momversation.com) and Project Lore (http://projectlore.com).
"DECA partnered with Smosh last October with the goal of evolving the brand into the premier teen web destination. The relaunch of Smosh.com is the first step in expanding the reach of the Smosh brand," says Michael Wayne, DECA CEO and President.
Throughout all this growth, Padilla and Hecox continue to do what they do best - create the hilarious young adult content that put Smosh on the web-based entertainment map.
The revamped site offers many new features, including:

A complete redesign and renovation that brings the website to the forefront of Web 2.0
Expansion and enhancement of the popular Smosh user forums, with continuing access to the site's millions of existing user-generated comments and forum threads
New customizable profiles and attendant features, elevating Smosh to a leadership position in social networking for teens and young adults
A new games section, including the intensely addictive "Smosh Fighter"
New merchandise
And, on the horizon, original blogs and editorial content.
Padilla and Hecox will continue to fill Smosh.com with the same entertaining content that first established the comedy duo. Moreover, they remain dedicated to the vital, sprawling community of peers that has made Smosh a movement at the forefront of today's entertainment.
About Smosh:
Smosh is a pop-culture phenomenon founded by Ian Hecox and Anthony Padilla in 2005. Since its inception, Smosh has garnered more than 700,000 YouTube subscribers and over 400,000 Smosh.com site members, with more than 216 million video streams to date. Smosh aspires to be the pre-eminent digital media brand for teens and young adults. For more information, visit http://www.smosh.com.
About DECA:
DECA (Digital Entertainment Corporation of America) was founded in 2007 to create a new model for the online entertainment experience. By identifying, funding, marketing and distributing next-generation digital content, DECA has become one of the leading players in shaping the future of entertainment. With its unique philosophy of recognizing and nurturing personalities and properties distinctive to the digital community, DECA stands alone in the industry by supporting content 'of the web, by the web, and for the web.' Headquartered in Santa Monica, CA, the company was founded by Michael Wayne and Chris Kimbell, who previously held senior roles at Sony Pictures, ABC, and Yahoo! Music. DECA is funded by Mayfield, General Catalyst, Rustic Canyon, and Atomico. More information can be found at http://www.deca.tv.
Media contacts:
Gary Miereanu
818-427-9469
miereanu (at) gmail (dot) com
Adam Isserlis
Rubenstein Communications
212-843-8024
aisserlis (at) rubenstein (dot) com
Brian Perkins
Smosh
310-587-3535
bperkins (at) smosh (dot) com
###