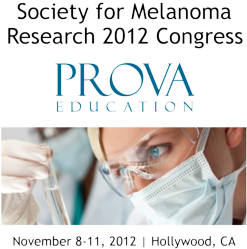 This year's program looks more promising than ever to bring important data to thought leaders around the globe.
Fort Washington PA (PRWEB) July 09, 2012
The Society for Melanoma Research (SMR), the world's leading medical society that focuses on melanoma research and clinical advances, announced today it has teamed with Prova Education to expand the reach and educational impact of SMR's 2012 Congress scheduled for November 8-11, 2012, in Hollywood, California. Prova Education will leverage its core expertise in medical education and oncology, providing peer-review of the scientific content. In addition, its network of online, on-air, and on-demand learning platforms will be available for post-conference education. The partnership is designed to create value for healthcare professionals seeking melanoma clinical information and education.
"The annual Congress of the Society for Melanoma Research is an extraordinary event that brings together global thought leaders who share cutting edge data and clinical research on melanoma," said Boris C. Bastian, MD, President of SMR and Professor of Cancer Biology at the University of California, San Francisco. "We are very excited to partner with Prova Education to raise awareness of the vast information that is shared among renowned experts in melanoma epidemiology, biology, genetics, immunology, and more," Bastian said.
Significant research efforts over the past 40 years have enabled profound changes in the approach and management of patients with melanoma, but the prognosis for patients remains extremely poor. Melanoma has the fastest-rising incidence of any cancer, with an alarming rate of 1 in 58 in 2011, up from 1 in 1,500 in 1935 in the United States. The SMR 2012 Congress attracts more than 700 participants who share clinical practice pearls, research findings, and cutting-edge developments on disease prevention, treatment, and management.
Antoni Ribas, MD, Professor of Medicine, Hematology/Oncology, and Professor of Surgery/Surgical Oncology at the UCLA School of Medicine, added, "This is the premier melanoma-focused meeting. It's where cutting-edge new data from the lab and the clinic is shared among specialists in medical oncology, dermatology, surgical oncology and general practitioners. Fortunately, this year's program -- which is our 9th year running -- looks more promising than ever to bring important data to thought leaders around the globe."
"Prova Education is pleased to partner with SMR on melanoma education," said Jeffrey Stein, Clinical Education Director at Prova Education. "We have a solid track record in oncology and in helping societies increase the value of their live conferences by expanding the number of commercial supporters, by increasing the number of exhibitors so participants gain more insight from the industry at large, and by broadcasting the robust data exchange that happens during live meetings to worldwide audiences. For SMR in particular, we will engage our 'Conference Coverage' program on ReachMD, an online and satellite radio education network, to extend their reach," Stein said.
Registration information and abstract submission instructions are available at http://www.MelanomaCongress.com/Registration. Opportunities for commercial supporters and post-meeting educational outreach are available at http://www.ProvaEducation.com/SMR2012.
About the Society for Melanoma Research (SMR)
The SMR brings together myriad professionals who share an abiding devotion to sharing research to improve the lives of those suffering from melanoma. SMR focuses on bringing discoveries from bench to bedside and back by fostering cooperation between labs and clinics. It builds multidisciplinary collaborations to achieve its goals and provides yearly Congresses, ongoing workshops, and other educational opportunities that act as catalysts to raise awareness in melanoma research and clinical practice. More information is available at http://www.SocietyMelanomaResearch.org.
About Prova Education
Prova Education, a wholly owned subsidiary of US HealthConnect Inc., delivers integrated, lifelong learning opportunities that lead to improvements in clinician competence and performance, with the aim of improving patient outcomes. Its multi-platform educational network includes live meetings, online activities, social media, radio broadcasts, print media, and more. Its global footprint includes educational endeavors and strategic partnerships in North America, South America, Europe, the Middle East, and Asia. More information is available at http://www.ProvaEducation.com.