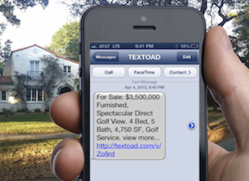 Having the right technology at your fingers will always work in your favor. Providing every caller instant information about a listing without even answering the call is priceless. TextoAd beats voice mail any day! - Evan Halkias - Cushman Wakefield
Coral Gables, FL (PRWEB) May 08, 2013
Shopping for property can be an exciting experience. With a pen, notepad and often a loan pre approval in hand, buyers drive from one property to the next jotting down information and short-listing potential homes. However, when a call for information goes unanswered or a realtor's response time lags, the home shopping experience quickly turns from exciting to frustrating and annoying.
"Prospective buyers want immediate answers when they're hot on a trail," says Felix Garoz, CEO and marketing director. TextoAd provides agents and brokers with a cost-effective, agent friendly technology that automatically responds to every call with MLS information by text... 24 hours a day, seven days a week. "No inquiry goes unanswered." Felix continues. Once a buyer makes an inquiry, the agent also receives an instant text alert with the caller's number and specific property interest.
TextoAd is the only SMS platform designed using voice-to-text technology. This technology allows the agent to use "one phone number" to access all of their properties, eliminating the need for QR codes or Short codes. A simple interface allows agents to integrate their listings by entering MLS identification numbers and importing all data and photos directly into TextoAd's platform.
Felix briefly outlines TextoAd's software capabilities below:
1. Agents select and use a single, local Phone Number for all marketing materials.
2. Agents add (residential and commercial) MLS and LoopNet ID's to link to active listings.
3. Agents automatically respond to every call received, by text 24/7.
4. Agents are provided with real-time property performance statistics.
TextoAD is providing Realtors® with a free trial account available on the company website (http://www.textoad.com). Once they get a TextoAd number they will receive a free start up kit to use with their active listings.