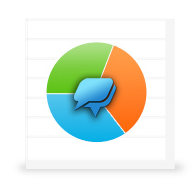 A huge part of what marketing is all about is testing, learning, and adjusting.
Jamestown, NY (PRWEB) February 07, 2013
SlickText.com, an industry leader in the SMS marketing industry provides businesses and organizations of all sizes with the tools necessary to market to their customers via highly targeted, opt-in text messages. They've experienced explosive growth over the past year and have been releasing new features on a regular basis to further increase the quality of their customer experience.
Slick Text is excited to announce the release of a new analytics dashboard for their SMS marketing service. With this new reporting tool, their users now have the ability to dive deep into how their text message marketing campaigns are performing.
Bobby Angilella, VP of Business Development said, "It's incredibly important for our customers to track the performance of their text marketing. The more insights they can gain, the more progress they'll be able to make as a result."
The new analytics dashboard provides charts, graphs, and geo-maps of subscriber data such as location, date/time of opt-in, and source of opt-in to name a few. Furthermore, it also allows their customers to track the performance of SMS marketing campaigns by tracking things like open rates, click-through rates, and subscriber activity following each text that's sent out.
Matt Baglia, CEO of SlickText.com added, "a huge part of what marketing is all about is testing, learning, and adjusting. Our analytics dashboard is so easy to use, and provides such good insight that it will encourage our customers to do much more of that."
SlickText.com's SMS marketing analytics are available for use today and is accessible for all customers regardless of what plan level they're on.
Slick Text has a track record of releasing very user-friendly features for their customers and their new analytics dashboard is another great example. To learn more, visit http://www.SlickText.com.