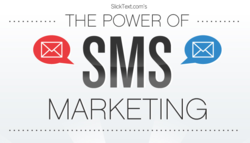 This infographic really puts the power of SMS marketing into perspective.
Jamestown, NY (PRWEB) April 16, 2013
SlickText.com, an SMS marketing industry leader, has just released a new infographic entitled "The Power Of SMS Marketing." This original infographic highlights some of the freshest statistics surrounding SMS marketing and portrays some very interesting information about this young marketing stream.
SMS marketing is a marketing method by which businesses and organizations of all sizes can effectively market to their customers via highly targeted, opt-in text messages. Marketers simply reserve a unique keyword that can be texted to a short phone number or "shortcode." Upon sending that text message, the person is subscribed to a particular SMS marketing list and a customized reply is sent back confirming the new subscription. This allows businesses to market specifically to customers who care and want to hear about their specials, promotions, and news.
SlickText.com's CEO, Matt Baglia said, "We're excited to release our first infographic as we're always explaining the effectiveness of SMS marketing in terms of statistics." He continues by adding, "This infographic really puts the power of SMS Marketing into perspective."
SlickText.com provides small- to medium-sized businesses with an incredibly cost-effective and user-friendly solution for entering the world of SMS marketing. They offer several different resources for how to get started and provide one-on-one help to walk new users through the process.
The infographic can be viewed on SlickText.com's blog by clicking the link below.
http://www.slicktext.com/blog/2013/04/the-power-of-sms-marketing-infographic/