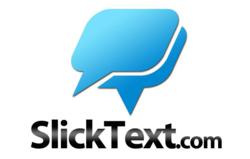 They asked, and we delivered
Jamestown, NY (PRWEB) May 11, 2013
SMS marketing, also commonly known as "text marketing" or "text message marketing" is a younger method of marketing by which businesses and organizations of all sizes can effectively communicate to their audience via highly targeted, opt-in text messages. One of the reasons why so many businesses are preferring SMS marketing over other forms of opt-in marketing like email is because the open rates are significantly higher. Unlike email, which carries an average open rate of about 20%, text messages, on average have an open rate that is now hovering around 99%.
The new single text message functionality that Slick Text now offers gives companies who have a need for appointment reminders and single customer notifications the ability to send and schedule text messages to individual people. CEO Matt Baglia said, "We have hundreds of service related customers who have been asking for the ability to schedule appointment reminders and other notifications to individual clients. They asked, and we delivered".
Businesses such as hair salons and doctors' offices are now scheduling text message appointment reminders quickly and easily with Slick Text's user-friendly SMS marketing service.
For more information on SMS marketing and Slick Text, you can visit their website at http://www.SlickText.com.