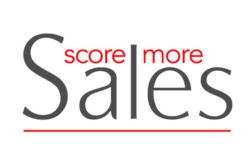 For our clients, sales are growing
Seattle, WA (PRWEB) January 10, 2012
Seattle B2B sales firm Score More Sales is expanding to Boston to help B2B technology, financial services, and distribution companies grow revenues.
The sales strategy company will continue to serve clients in the Pacific Northwest, where the company has operated for nearly 10 years.
Score More Sales, founded by Lori Richardson, offers practical, just-in-time skills to front-line sales professionals, sales leaders and company owners on ways to grow sustainable customer relationships, shorten sales cycles, and get a higher percentage of qualified leads closed.
"We do our best work with technology, financial and professional services firms, and increasingly found great, smart clients in the Boston area," Richardson said. "Like Seattle, Boston is technology rich with a good number of rapidly growing companies whose leaders can't keep up with sales or who want to get off to a great start with sales training, coaching or mentoring."
In addition, some clients just want results so they hire Score More Sales as an outsourced lead development and prospecting solution, which is a new service offering, Richardson said.
Richardson is no stranger to Boston; Score More Sales was founded in Boston in 2002, where Richardson worked with companies such as Thomson Reuters, Akamai and Siemens, helping them with sales leadership, sales skills training and business development.
Richardson later moved the business to Washington state.
The expansion caps off a great year for Score More Sales. In December, the company's blog at scoremoresales.com, was awarded a Silver medal for "Top Sales and Marketing Blog" for 2011 by Top Sales Awards.
Score More Sales recently published a free, downloadable e-book called "Winning Teammates" that shows sales teams how to grow revenues by strengthening strategic partnerships.
Just before year-end, Richardson was named co-president of the Boston Chapter of the American Association of Inside Sales Professionals, or AA-ISP.
"For our clients, sales are growing," says Richardson.
Contact: Lori Richardson at 978-222-3140
About Score More Sales
Score More Sales provides tactical consulting, training, and coaching to B2B companies, inside sales teams and individual sales reps. The company can also act as an outsourced lead development and prospecting solution for business when short-staffed. Learn more at http://www.scoremoresales.com
###