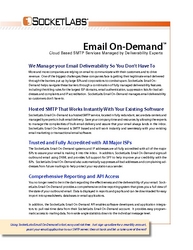 The new open and click tracking provides intelligence to our customers which they can use to increase the effectiveness of their email efforts and their success. This is what sets us apart from other SMTP services on the market
Claymont, DE (Vocus) May 26, 2010
SocketLabs, a leader in enterprise, hosted SMTP relay services, added open and click tracking of both marketing and transactional email to it's Email On-Demand cloud-based SMTP service.
Open and link click tracking provides enhanced usage statistics for customers relaying email through the SocketLabs Email On-Demand system. No code changes or enhancements are required by the customer to take advantage of the open and click tracking feature. Customers need only to turn the feature on within their Email On-Demand account to enable the feature and begin tracking open and link tracking events.
Providing open and link click tracking statistics on transactional and marketing email enables companies to better measure the effectiveness and reach of their bulk email. Through detailed reports available either online or via an API, a customer can capture the historic pattern of their open and click events across all types of email. By enabling these features, a customer gains a level of insight into their email campaigns that they would never have had through a traditional SMTP service provider.
"The new open and click tracking provides intelligence to our customers which they can use to increase the effectiveness of their email efforts and their success. This is what sets us apart from other SMTP services on the market," remarked John Alessi, President of SocketLabs. "Using our platform is easier and more effective than trying to blindly blast email through traditional SMTP servers."
The SocketLabs Email-On Demand service is a fully hosted and managed SMTP relay service that lifts the burden of managing bulk email by providing management of SPF DNS records, DKIM signing, ISP rate limiting, bounce management, complaint reporting and automated suppression lists to provide a high deliverability email delivery system. Plans and pricing can be found at socketlabs.com.
About SocketLabs, Inc.
SocketLabs, Inc. is the leading provider of high volume, marketing and transactional email delivery solutions. With over 10 years experience in building email systems and solving deliverability issues, SocketLabs helps responsible bulk senders achieve scalability, and hit the Inbox. Visit http://www.socketlabs.com for more information.
SocketLabs is a registered trademark of SocketLabs, Inc. All other trademarks are property of their respective owners.
###