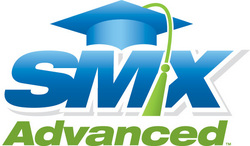 Redding, CT (PRWEB) March 9, 2009 - The lowest rate for Search Marketing Expo -
SMX Advanced expires Friday, March 13 at midnight (PDT). Register before the deadline and save $400 off the on-site rate.
SMX Advanced is the one conference designed for veteran search engine marketers to exchange ideas, influence the industry and build their networks. SMX Advanced sessions are fast paced, Q&A-packed, frequently controversial and always bleeding edge.
This conference is created by the editors of the leading internet marketing news blog Search Engine Land, led by Editor-in-Chief Danny Sullivan and Executive Editor Chris Sherman. SMX Advanced content features:

the latest tactics for implementing and managing ROI-driving paid search advertising campaigns
cutting-edge organic SEO techniques
and for those in the industry, successfully managing your SEM business in the recession
The exceptional and cozy Bell Harbor International Conference Center, on the waterfront in downtown Seattle, is the venue for SMX Advanced. Bell Harbor's only flaw is limited capacity. SMX Advanced sold out in each of the last two years.
Don't miss your only opportunity this year to attend SMX Advanced. Register until the end of the day on Friday, March 13 and pay just $1195, $400 off the on-site rate.
About Search Marketing Expo and Third Door Media, Inc.
Search Marketing Expo - SMX Advanced is produced by Third Door Media, Inc. Third Door Media's mission is to empower internet and search marketing professionals by providing trusted content and community services they need to be successful. Other Search Marketing Expo events include SMX East, SMX West, SMX Search Analytics, SMX Sydney, SMX Munich, and SMX London. The full list is available at http://searchmarketingexpo.com.
Third Door Media also publishes the search marketing news and analysis site Search Engine Land. The company also produces Search Marketing Now, a lead-generation marketing solution for suppliers of SEM-related products and services, and Sphinn.com, the place for web, online, search, interactive and internet marketers to share news stories, talk in subject-specific discussion forums, build their networks and stay connected to hot topics in internet marketing.
###