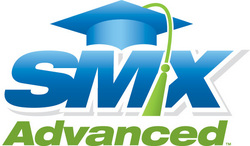 SMX Advanced is for search engine marketing veterans - those fluent in search. It offers a chance for conversations and topics about search marketing to reach a much higher level, because you're not devoting time bringing beginners up to speed
Redding, CT (PRWEB) April 28, 2009
Search Marketing Expo - SMX Advanced's early bird registration rate expires at the close of business on May 1. Conference participants can save $100 by registering before the price increase.
Register online or by phone at (877) 242-5242. SMX Advanced will be held June 2-3 at the Bell Harbor International Conference Center in Seattle, WA.
Programmed by leading search authority Danny Sullivan and the editors SearchEngineLand.com, SMX Advanced features tracks on organic and paid search engine marketing, social media marketing and SEM business issues. See the complete agenda.
"SMX Advanced is for search engine marketing veterans - those fluent in search. It offers a chance for conversations and topics about search marketing to reach a much higher level, because you're not devoting time bringing beginners up to speed," said Sullivan. Read his extensive SMX Advanced conference preview on Search Engine Land.
SMX Advanced will feature several networking events, beginning with the SMX Meet & Greet on Monday, June 1. On June 2, SMX producer Third Door Media and SMX Advanced premier sponsor Microsoft will host networking gatherings.
A host of market-leading companies will be participating in SMX Advanced. In addition to Microsoft, others exhibiting or sponsoring include Omniture, Bruce Clay, Inc., Facebook and Google. See the complete list at http://searchmarketingexpo.com/advanced/2009/exhibitors .
About Search Marketing Expo and Third Door Media:
The Search Marketing Expo - SMX conference series is produced by Third Door Media, Inc. Third Door Media's mission is to empower internet and search marketing professionals by providing trusted content and community services they need to be successful. Search Marketing Expo conferences are held around the world and include: SMX West (Santa Clara, CA), SMX East (New York City) SMX Advanced (Seattle, WA), SMX London, SMX Munich, SMX Sydney, SMX Singapore, SMX Madrid, SMX Sao Paolo, and SMX China.
Third Door Media publishes Search Engine Land, the leading search marketing news and analysis site. The company also produces Search Marketing Now, a lead-generation marketing solution for suppliers of SEM-related products and services, and operates Sphinn.com, a social news site that allows search and internet marketers to share news stories, participate in subject-specific discussion forums, and build their professional networks.
###