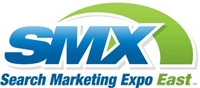 Redding, CT (PRWEB) August 5, 2008
Search Marketing Expo today announced the agenda for the upcoming search marketing conference and exhibition,Search Marketing Expo - SMX East, to be held October 6-8, 2008 at the Jacob K. Javits Center in New York City. The three day multiple track marketing conference contains more than 50 sessions focusing on all aspects of search engine marketing (SEM) and search advertising.
With sessions like "Search and the iPhone," "What's New in Video Search Marketing," and "Social Media Marketing for Newspapers and Magazines," SMX East covers the latest trends in internet and search marketing and advertising -- in addition to basic skills and tactics needed for success in this rapidly growing segment of internet marketing.
Programmed by renowned search experts Danny Sullivan and Chris Sherman, and the award winning editorial team at Search Engine Land the full conference agenda is now online.
SMX East has been carefully developed to deliver educational sessions for marketers of all skill levels -- from novice to the most seasoned advertising veteran. The agenda is coded by skill level, so attendees can customize their curriculum and learn about search marketing at their own pace. Content is vetted and moderated down to the questions and answers that are selected for follow-up in a session -- all in the name quality content.
"As with all our SMX conferences, our aim is to provide the absolute best search marketing content," said Sullivan. "Our agenda reflects this; it also reflects our focus on reaching all levels of search marketing experience. Whether you're just starting out with your first website -- or you've been doing this since the inception of online marketing and manage thousands of web pages -- our SMX East conference agenda has been developed so there's something for everyone."
"We're confident that attendees will be able to find what they want -- and that they'll go home having learned something that can be implemented right away. In fact," added Sullivan, "we're so confident that we offer a satisfaction guarantee."
Each day is organized four separate session tracks, including:
SMX Boot Camp: Designed for search marketing novices, these sessions cover keyword research, copywriting and link-building fundamentals, an intro to PPC advertising and more. SMX Boot Camp gives attendees a firm foundation in search marketing, which they can build upon later in the conference.
Publishers & Agencies: From "Social Media Marketing for Newspapers & Magazines" to "Breaking Up (With Your Agency) Is Hard to Do," these sessions provide insight into how online publishers and advertisers can reap the rewards of successful search marketing
Vertical Search Marketing: Local Search, Video Search, Search and the iPhone -- as search marketing explodes, SMX East explores the niches that are leading the way.
Brands and In-House Search Marketing: How do you manage your brand and also manage search? Sessions include "Search & Reputation Management," "Search Integration: Are We There Yet?" Plus, an entire track for in-house marketers, to address the issues unique to marketing within an organization.
Agency & Paid Search: These sessions include "Advanced Paid Search Tactics" plus special sessions such as "Ask the Paid Search Reps," that are entirely Q+A in format.
Issues: "What is Ethical Social Media Marketing?" "What is Spam?" Find out the answers to these and other pressing questions facing internet marketers today.
SEO, Paid Search, Links & Listings: SMX East brings together the most expert minds in the industry, to talk about what's new but also focus on what it takes to be good at search marketing today. Sessions such as "Flash & SEO," "Tools, Glorious Tools," "Enhanced Listings," "Paid Search Analytics," -- are just examples of how SMX East keeps current with the fundamentals of search engine marketing.
Tactics: Sessions such as "Web Analytics You Should Know" refresh or introduce attendees to hands-on aspects of search marketing.
For a look at the complete agenda online, visit http://searchmarketingexpo.com/east/2008/agenda.php.
Registration Information:
Registration through September 8 will be $1,195; until October 5th it will be $1,395. On-site registration will be $1,595. Visit http://searchmarketingexpo.com/east/2008/register.php.
About SMX East Third Door Media, Inc.:
Search Marketing Expo - SMX East is produced by Third Door Media, Inc. Third Door Media's mission is to empower Internet and search marketing professionals by providing trusted content and community services they need to be successful. Other Search Marketing Expo events include SMX West, SMX Advanced, SMX Social Media Marketing, SMX Munich, and SMX London. The full list is available at the Search Marketing Expo site.
Third Door Media also publishes the search marketing news and analysis site Search Engine Land, produces Search Marketing Now, a lead-generation marketing solution for suppliers of SEM-related products and services, and Sphinn.com, the place for Web, online, search, interactive and Internet marketers to share news stories, talk within subject-specific discussion forums, build a network and stay connected to hot topics in Internet marketing.
Contact:
Claire Schoen
Third Door Media
(203) 664-1350
claire(at)thirddoormedia.com
###