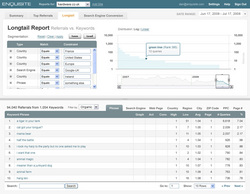 Enquisite Pro lets you compare how keywords fare in the search engine results pages (SERPs) across multiple search engines
SMX East, New York, NY (PRWEB) October 6, 2008
Enquisite, Inc., a developer and provider of the next generation of search analytics solutions, announced today at SMX East that it has a new weapon for online marketers to use in their quest to monetize search: the ability to find out when one search engine is sending a stream of qualified traffic not duplicated by any other search engine.
The company's industry award-winning platform Enquisite Pro already lets marketers compare campaign performance across all search engines. "Enquisite Pro lets you compare how keywords fare in the search engine results pages (SERPs) across multiple search engines," explains Enquisite Vice President of Marketing Dan Robbins. "The new Opportunities functionality takes Enquisite Pro's Search Engine Comparison Report to the next level. It instantly highlights for search marketers the keywords that are bringing qualified visitors in one search engine like Yahoo! but doesn't even show up in another, like Google--pinpointing paid opportunities on the engine where the keywords don't generate a result."
"Armed with this valuable data, a marketer can go out and buy pay-per-click (PPC) ads for that keyword or phrase on the other engines with the expectation that they will perform well," Robbins explains. "It is all about Enquisite's value to the marketer--everything we do is a step toward helping marketers further monetize their search campaigns."
"Considering the current state of the economy, if you can move a campaign from so-so qualified traffic to one that is humming with sales conversions, you are a platinum performer in your department," says Robbins.
Enquisite Participates in SMX Track:
On Day Two of the conference, October 7, 2008, Enquisite Founder and President Richard Zwicky will be a speaker on "Paid Search Analytics," beginning at 4:45 p.m. This session looks at the types of analytics you want to perform in terms of paid search, in order to increase ROI and conversions.
All About the Longtail:
Enquisite recognizes that, in the past, online marketers haven't optimized the power of the longtail because it was extremely hard to get to the data. The company has designed its technology to let marketers visualize the longtail of keywords, and analyze which keywords lead to eventual sales conversion. The platform gives marketers a digestible snapshot of longtail-related behavior so they can build campaigns and optimize as needed.
About Enquisite Inc.:
Enquisite, Inc. is a developer and provider of the next generation of search analytics solutions. Founded in 2006, Enquisite offers search marketers unparalleled insights into search page rankings and visitor behavior from both organic and pay-per-click (PPC) search listings.
Enquisite is a search engine referral analysis suite that provides in-depth information about web site visitors referred by search engines. Used by organic and paid search marketers, Enquisite delivers a wide array of search referral data with metrics ranging from a 'big picture' overview to extremely granular information about local search markets.
The company has offices in San Francisco, CA, Victoria, British Columbia and Seattle, WA.
###