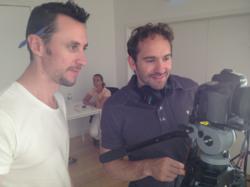 We have a grassroots interest in film, which was demonstrated when we expanded our Melbourne SEO Services to include Melbourne Video Productions
(PRWEB) April 24, 2012
David Jenyns, from Melbourne Video Productions, has revealed that his team is leveraging its considerable social media presence to get right behind Adrian Cabrie with his entries into the YouTube "Your Film Festival" competition. The entries can be found at http://www.snackcinema.com.
Adrian, a partner in the company, is also an independent film producer. Mr Jenyns believes that having someone of Adrian's caliber, contributing to Melbourne Video Productions on a day-to-day basis, demonstrates the company's commitment to value of video in the online business environment.
YouTube is aiming on increasing focus on channels and is hoping that its new global venture, entitled "Your Film Festival", will be the number one source for great-quality programming. YouTube is putting its weight into re-structuring its online viewing platform as a hub for quality programming that will encourage longer viewings by audiences and ultimately provide a more solid platform for advertisers to align their brands with high-quality content.
YouTube's biggest push into original programming was announced last year with the launch of more than 100 video channels from partners including an array of Hollywood production companies, celebrities and new media groups.
"We have a grassroots interest in film, which was demonstrated when we expanded our Melbourne SEO Services to include Melbourne Video Productions" said Mr Jenyns.
He continued "In throwing our social media weight behind Adrian's YouTube competition entry, we hope that it won't belong before we'll be watching a feature film created by him."
More information about Melbourne Video Productions can be found at Melbourne Video Production
About Melbourne SEO
MelbourneSEOServices.com is a full service search engine optimization (SEO) consultancy, based in Australia, but with a worldwide client base.
Known for being at the cutting edge of strategic SEO practices, the company delivers a growing suite of services including: on-page and off-page search engine optimization, article distribution, Google Places listing, SEO press release service, web video production, one-on-one consulting, and now corporate SEO training,
Melbourne Video Productions, formed out of sheer demand.  We quickly developed and acquired a specialized team focused on top-notch web video.  Armed with professional filmmakers and proficient scriptwriters to work in conjunction with Melbourne SEO Services' internet marketing nous, we won't just spearhead your website in the sea of results, but make you look good while doing it!
There is no other company like us, offering both internet marketing combined with professional web video.  With our focus always at the horizon, we'll continue to be at the front of this wave, and will no doubt be at the forefront of the next, before anyone else knows the surf's up.
More about Melbourne SEO Services and Melbourne Video Production can be found at http://www.melbournevideoproduction.com.au/video-seo/