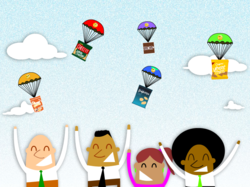 Betty Mills is the Company that gives you free snacks when you purchase your business supplies
San Mateo, CA (PRWEB) May 23, 2012
The Betty Mills Company ® an Internet TOP 500 Retailer and one of the nation's leading online B2B shopping destinations today announced it had awarded in excess of $600,000 in Snack Rewards™ to its customers last year.
Betty Mills CEO, Victor Hanna said, "The mission of our Snack Rewards loyalty program is to wake up America's break rooms with Free Office Snacks, particularly those that promote a healthier lifestyle. We now have over 2,500 snack foods and beverages for the office and break room, including over 1,500 all natural and organic snacks."
"Betty Mills is the Company that gives you free snacks when you purchase your everyday supplies and we look forward to breaking new records each year as we continue rewarding our customers for their loyalty to our business," said Victor Hanna.
About Betty Mills
The Betty Mills Company® is a TOP 500 e-commerce company and one of America's leading B2B suppliers of cleaning, facility, MRO, break room and office snacks. Offering 130,000 brand-leading products shipped right to your door from over 55 U.S. warehouse locations.
With Betty Mills everyday low prices, Snack Rewards™ Customer Loyalty Program and Double Markdowns® Specials, Betty Mills offers a rich and easy online shopping experience for everyone who likes to buy smart and save big. The Company's headquarters are located in San Mateo, CA. For more information, please visit BettyMills.com.
# # #