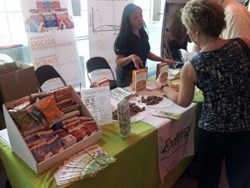 It doesn't necessarily require expensive technology, or medical intervention, to reduce low blood sugar. People don't need a prescription or an insurance card. Instead, they can just eat a simple great-tasting snack.
St. Louis, MO (PRWEB) August 01, 2013
Diabetes educators from around the country are set to meet this August and discuss the best way to help people with diabetes. Extend Nutrition will provide free samples of Extend Bar and its other diabetic friendly foods at Booth 211 on August 7th, 8th and 9th at the 2013 AADE Annual Meeting in the Philadelphia, Pennsylvania Convention Center.
Recent news has highlighted the growing problem of hypoglycemia (low blood sugar). Extend Nutrition hopes to be part of the solution for people who suffer from serious episodes of hypoglycemia.
Glen Lightbody knows what it is like to constantly worry that severe hypoglycemia may strike at any given moment – he is someone who struggles with diabetes, a disease which affects the body's ability to manage blood sugar levels.
"About a month ago I was at Walmart at around 10 p.m. walking around. I was feeling weak and tired and was having trouble walking," Glen said. "At some point someone stopped to help and called an ambulance but I don't remember any of that. I do remember waking up in the ER... I was trying to lose some weight and may not have eaten enough which contributed to this episode."
Lightbody's story is not uncommon. In fact, hospital admissions for severe hypoglycemia (low blood sugar) currently exceed hospital admissions for hyperglycemia (high blood sugar).
Hypoglycemia admissions totaled 429,850 in one study of Medicare patients with diabetes between 1999 and 2011.
The elderly and minority groups are at the greatest risk. People aged 85 years and older had twice the admission rates for hypoglycemia than did younger beneficiaries; African-Americans had four times the admission rates for both hyperglycemia and hypoglycemia.
"Continued efforts are needed to reduce hypoglycemia, particularly among blacks and older patients," reported Dr. Kasia J. Lipska at the 73rd annual scientific sessions of the American Diabetes Association.
Treatments for hypoglycemia include technology, medication and nutritional strategies. Technologies include continuous glucose monitoring (CGM), a small sensor that is inserted under the skin to automatically check blood glucose level with alerts that can be set for low blood sugar. Medications include Glucagon (injection or intravenous) and Dextrose 50% (usually intravenous). Over-the-counter treatments include glucose tabs and/or fast-acting carbohydrates like orange juice.
Hypoglycemia symptoms can range from dizziness to seizures. Severe hypoglycemia may lead to coma or even death. The condition is a complication of the treatment of diabetes rather than diabetes itself, explains Dr. Francine Kaufman in her book "Diabesity."
Hypoglycemia "happens when there's an imbalance between diabetes medications – most often insulin – and food intake and physical activity. Diabetes medications are supposed to prevent high blood sugar. But if someone who is taking insulin or other diabetes drugs skips a meal, eats less or is more active than usual, blood sugar can plummet."
Dr. Kaufman created a solution for hypoglycemia in the 1990s with the invention of Extend Bar and other snacks for diabetics.
Extend Bar, manufactured by Extend Nutrition, helps prevent hypoglycemia. The key ingredient in these snacks is uncooked cornstarch, a very complex, low glycemic carbohydrate that digests slowly and converts to blood sugar for up to 9 hours.
The slow-release carbohydrate formula is only found in Extend Nutrition snacks and clinically proven to reduce hypoglycemia by up to 75 percent.
"Dr. Kaufman has already found an answer to hypoglycemia and it is verified by multiple clinical studies. Extend bar does, in fact, help prevent hypoglycemia," said Jonathan Lindberg, Extend Nutrition outreach manager.
"It doesn't necessarily require expensive technology, or medical intervention, to reduce low blood sugar. People don't need a prescription or an insurance card. Instead, they can just eat a simple great-tasting snack. Although awareness of Dr. Kaufman's Extend Bar is growing, we'd like to see it spread even further."
Extend Bar has helped make a difference in the lives of hundreds of thousands people since it was invented by Dr. Kaufman in 1993 (it became available to consumers soon thereafter.)
Nancy Dalton, for example, said her blood sugar lows have not been a problem since she found the unique snacks for diabetics. "I struggled almost daily with low blood sugar for nearly 20 years. I was desperate – I tried everything," Dalton said. "Nothing worked to keep me from dropping – until Extend Bar."
Medical experts agree that diabetic friendly foods, along with education, can help solve the problem of low blood sugar. "You provide good education on how to avoid hypoglycemia, and hypoglycemia goes down," said Marjorie Cypress, PhD, RN.
The upcoming 2013 American Association of Diabetes Educators (AADE) Annual Meeting in Philadelphia, PA provides a platform for diabetes educators, pharmaceutical companies, and companies like Extend Nutrition to come together and discuss the best available options for treatment.
+ + +
Invented by Dr. Francine Kaufman, world-renowned endocrinologist and former President of the American Diabetes Association, the patented line of Extend Nutrition Bars, Shakes, Crisps and Drizzles are the only snack foods clinically-proven to help control blood sugar for up to 9 hours. Blood sugar control is the key to diabetes management.
Extend Nutrition snacks have been enthusiastically recommended by thousands of certified diabetes educators, doctors, and registered dietitians around the world for over 10 years.
Extend Nutrition products are now available at more than 25,000 retailers nationwide, including Walmart, Walgreens, CVS, Target, Kmart and other leading retailers where diabetes nutrition products are sold.