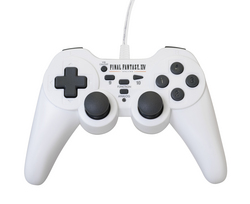 The relationship with Sunflex USA pairs Square Enix's unmatched quality of games with the highest quality accessories available
Los Angeles, CA (Vocus) October 1, 2010
Sunflex USA, distributor of snakebyte™ PC support products and services, announces a license agreement with Square Enix, Inc. for a FINAL FANTASY® XIV controller to be released in North America.
This official FINAL FANTASY XIV peripheral brings together the highly rated and technically superior quality of the official PlayStation®2 computer entertainment system licensed controller from ZeroG to the Windows® PC market for the first time.
With its streamlined functionality, the renowned control scheme enhances the RPG experience, seamlessly immersing players into the world of Eorzea.
"We can't think of a better way to launch our company than to join with Square Enix® and offer gamers a high quality controller for the release of FINAL FANTASY XIV. Our controller will be available day-and-date with the release of the Standard Edition of the game and will improve the game play feel of this great RPG saga on PC," said Howard Borenstein, President of Sunflex USA Inc.
"The relationship with Sunflex USA pairs Square Enix's unmatched quality of games with the highest quality accessories available," said Yasu Kurosawa, North American Online Producer of Square Enix, Inc. "The official controller will enhance game play for our fans looking for the ultimate FINAL FANTASY XIV experience."
Released simultaneously with the launch of FINAL FANTASY XIV PC Standard Edition, the official controller will be available at selected retailers on September 30, 2010.
About Sunflex USA
Located in Los Angeles, CA, Sunflex USA is the exclusive distributor of the snakebyte brand, which includes simple adaptors across clever transport and storage solutions and includes elaborate and innovative controllers, high-end cables and peripherals, always with a focus on innovation and user benefit.
For more information about Sunflex USA, please go to http://www.snakebyte-usa.com.
About Square Enix, Inc.
Square Enix, Inc. is a U.S. based wholly-owned subsidiary of Square Enix Holdings Co., Ltd., a holding company leading Square Enix Group. Square Enix, Inc. publishes and distributes entertainment content under the Square Enix Group's internationally renowned brands such as Square Enix, Eidos® and Taito® in the Americas. The Square Enix Group includes a global network of leading development studios located in North America, Europe and Japan. The Group boasts a valuable portfolio of intellectual property including: FINAL FANTASY, which has sold over 97 million units worldwide; DRAGON QUEST®, which has sold over 54 million units worldwide; TOMB RAIDER®, which has sold over 35 million units worldwide; and other well-established products and services.
More information on Square Enix, Inc. can be found at http://www.square-enix.com.
DRAGON QUEST, FINAL FANTASY, SQUARE ENIX and the SQUARE ENIX logo are registered trademarks of Square Enix Holdings Co., Ltd. EIDOS and TOMB RAIDER are registered trademarks of Square Enix Ltd. TAITO is a registered trademark of Taito Corporation. snakebyte is a trademark of Sunflex Europe. "PlayStation" is a registered trademark of Sony Computer Entertainment, Inc. Windows is a registered trademark of the Microsoft group of companies. All other trademarks are the property of their respective owners.
###