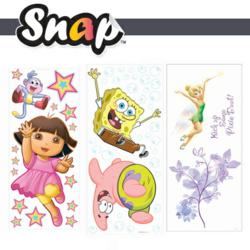 We are always looking for new and better products to offer to our valued customers.
Chattanooga, TN (PRWEB) December 20, 2012
WallpaperWholesaler.com is happy to announce the addition of this versatile product to their ever-expanding line of home décor items. Snap™ Instant Wall Art peel & stick decals are a quick and easy way to add a personal touch to any wall. "We are always looking for new and better products to offer to our valued customers," stated Bill Light, COO of Wallpaper Wholesaler.
Snap is a new and innovative idea in instant wall art that allows you to easily customize your wall décor. These peel & stick decals make decorating a snap, as they are completely repositionable and will not mark or damage walls. Snap Instant Wall Art applies in seconds and can be removed just as easily.
Snap offers a variety of options from home décor, kid's themed and licensed products. There is something for everyone and any room. Snap peel & stick wall decals are a great way to personalize a space. Whether it is for the kitchen, bedroom, living room or child's room, Snap is available in many different patterns. Some of these patterns include vintage prints, written expressions, novelty motifs, and pictures of flowers and characters from children's movies and television shows. Add an inspirational message to the kitchen décor or decorate a child's room with their favorite Disney or Nickelodeon characters. They make great gifts as well.
Snap decals are not just for walls. They look great on windows, doors, furniture, ceilings, mirrors and more. They will work on any surface that is smooth, clean and dry. Creative uses are virtually endless as they can also be applied to laptops, smart phones, lockers, and binders. They can even be used over wallpapered walls, as long as the paper isn't textured. They are great for temporary spaces such as dorm rooms as well.
Varieties of design, ease of use, easy to remove…these are just some of the reasons that the Snap Instant Wall Art peel & stick decal is such an inspired product.
Wallpaper Wholesaler has a large selection of wallcoverings, including peel & stick decals, murals, vinyl wallpaper, eco-friendly wallpaper, and more, residential and commercial.
Wallpaper Wholesaler has been serving the public for over 35 years by offering the best prices on wallpaper, blinds, shades, shutters, and draperies. Visit the showroom in Chattanooga, TN or online anytime at http://www.wallpaperwholesaler.com.
Internet Wholesaler, Inc.
3956 Brainerd Rd.
Chattanooga, TN 37411