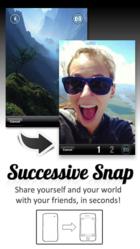 "We have created something unique and unheard of within the Camera & Photography market. Achievements and Unlocks within a Photography App is something that has not been done before. And our Successive Camera is going to be the start of a trend"
Sydney, Australia (PRWEB) February 07, 2013
Available today, SnapBack offers a one of a kind camera & photography experience for its users. SnapBack targets Facebook, Twitter and Instagram users with an easy way to share themselves with there friends. Utilising both rear facing and FaceTime cameras successively, users can share themselves and where they are in seconds! TakeOff Design's aim was to create a new trend of reactionary shots amongst groups of people that love photography and sharing with their friends via social media.
The key to SnapBack's success is its simplicity. Upon opening SnapBack, users will be immediately launched into our "Successive Snap" camera. Loading quicker than the standard iOS Camera App, Successive Snap was designed for speed so users will never miss those perfect opportunities. From here, the user will aim the camera and take a photo, once the photo has been taken, SnapBack will immediately activate the FaceTime camera and allow a 2 second window to the user to ensure they are in the photo and smile.
Once both the images are captured and accepted by the user, they will then choose one of the 45 frames to house them in. SnapBacks' frames range from single celled frames all the way up to 6 celled, giving the user the ability to create collages or use multiple photo's. After choosing a frame, the user can then customise the borders thickness, colour or even add a texture to it.
The user is then given the opportunity to customise the images with over 35 of the most used photo filters and the addition of full sharpness and brightness control, giving full control back to the user. The user can then add an unlimited number of label to their creation with over 35 fonts and the ability to rotate, adjust size and even adjust the opacity of their labels.
Then with the push of a button the user can upload their creation to Facebook, Twitter, Instagram, send it via email or save it to you Camera Roll. If they do decide to upload to Facebook or Twitter they will be rewarded with the unlocking of frames, textures and photo filters via in-app achievements. There are 9 achievements in total, all unlock another set of frames, textures and filters and all are simply based on how many times you upload to Facebook or Twitter. If the users are not one to take the hard road and earn the unlocks, they can opt for a one off in-app purchase that will unlock all frames, textures and filters.
"We have created something unique and unheard of within the camera & photography market. Achievements and unlocks within a photography app is something that has not been done before. And our Successive Snap camera is going to be the start of a trend" - Nickolas Kola, TakeOff Design
SnapBack is now available on the Apple AppStore in english speaking countries. SnapBack is having a 50% launch sale and is currently on the AppStore for $0.99c. The in-App purchase is also $0.99c and unlocks all the features of SnapBack without the need of achievements.
Development is already underway for the latest updates to SnapBack; camera enhancements including a flash for the FaceTime camera and addition of exposure and focal points for the rear facing camera being just part what can be expected in the weeks to come.
TakeOff Design is a small business owned and operated by Nickolas Kola. TakeOff Design was started as a website design business however progressed to software development soon after launch. It has developers in the U.S and graphic designers in Egypt that have collaborated to put together it's first app for the AppStore.
Download SnapBack from the Apple AppStore now: https://itunes.apple.com/us/app/snapback/id575290730?ls=1&mt=8
Website Addresses:
TakeOff Design: http://www.takeoffdesign.net
SnapBack: http://www.snapbackapp.com