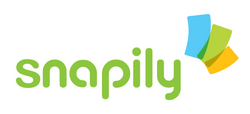 With the Photo Marketing Association's (PMA) annual trade show kicking off today, the world is paying special attention to the new and exciting innovations in digital photography
New York, NY (PRWEB) March 3, 2009
From Bolt (Disney) to the eagerly anticipated, Monsters vs. Aliens (Dreamworks), which comes out March 27, 2009, 3D is one of the biggest entertainment trends of the year. Snapily.com, the only online service that prints personal photos with 3D and animation, is giving consumers the ability to do to their photos what Hollywood and Madison Avenue are doing to top movies, TV shows, and advertisements.
Snapily is the first and only online consumer service to use lenticular printing technology to add depth and motion to personal printed photos. That means a greeting card can literally send a kiss, perform a dance, and give a hug.
"With the Photo Marketing Association's (PMA) annual trade show kicking off today, the world is paying special attention to the new and exciting innovations in digital photography," said Duby Hodd, CEO.
In addition to 3D, Snapily's special effects include "flip" (alternates between two images) and "morph" (a seamless transition between to two images). Very soon, Snapily will introduce the ability to turn video clips into moving photo prints and merchandise. Consumers can chose between a variety of photo products, including greeting cards; scrapbook pages; business cards and personal fun cards; invitations and thank you cards; and notebooks. Additional products will be available soon. Snapily products start at $3.50. See more information about Snapily's services here: http://www.youtube.com/watch?v=nnqFFrtt2Ms.
About Snapily
Snapily.com is a new web service allowing consumers, for the first time, to harness the latest in "special effects" printing technology to create personal and dynamic photo merchandise. Snapily is a service offered by HumanEyes Technologies, the leader in the creation and printing of special effects photos, which was founded in 2000. Snapily brings HumanEyes' B2B offering to consumers. Snapily's proprietary technology, which has been in development for more than seven years, enables consumers to add "special effects", such as 3D, Flip, Morph, and, coming soon, printed video clips, to ordinary digital images. In addition to building a standalone destination, Snapily is working with partners to help them offer their customers Snapily's special effects technology, which includes the online creation tools and the short run printing capabilities. The company's Chairman of the Board is Benny Landa, founder and former CEO of Indigo, which was acquired by HP in 2002.
For more information, please visit http://www.snapily.com. Media inquiries can be directed to press (at) snapily (dot) com.
###