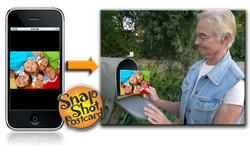 my grandma loves to get pictures of me.
Boise, Idaho (PRWEB) April 17, 2009
Does anybody send picture postcards anymore? In this internet age of email and digital cameras, receiving a printed postcard with a personal message seems positively retro. However, a new iPhone application is providing a high tech revival to old fashioned postcards.
Snapshot Postcard is the new iPhone application that sends "real postcards to real mailboxes." With SnapShot, you build your own custom postcard right on your iPhone. Snap a picture, or choose one from your photo library, for the front of the postcard. Then type in a message and choose an addressee for the back. Press the send button and through the magic of technology your custom picture postcard is printed, complete with message, stamped, and delivered to the addressee's mailbox.
"I love not having to look for stamps or a mailbox, just a few taps on my iPhone and I'm done," says Dean Tucker of Boise, Idaho. 'If it wasn't for SnapShot I wouldn't send postcards at all, which would be a shame because my family loves to get them."
One of the benefits of printed postcard is it's accessible by all people of all ages--email expertise not required. Ten year old Nichole Edsall, a California native living in Italy, sums it up succinctly: "my grandma loves to get pictures of me." Nichole's father Tom likes the service for more practical reasons. "It's actually cheaper to use SnapShot and my iPhone then to mail a postcard home from Italy."
And don't think grandmas are just on the receiving end. Ann Russell, an iPhone toting grandmother living in Lawrence, Kansas sends postcards to all her grandchildren. "It's an event to get a postcard", says Russell "and being able to use my own pictures gives us more to talk about."
Snapshot Postcard sells on the iPhone App Store for $4.99, which includes three postcard credits (enough for three free postcards). Postcards sent to a domestic address cost one credit and postcards mailed to international addresses cost two credits. Additional credits can be purchased for as low as $1 each at the SnapShot Postcard website http://www.snapshotpostcard.com.
###