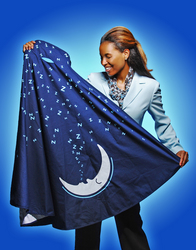 Atlanta, GA (PRWEB) September 7, 2010
Launching less than two weeks ago, the Snazzy Napper™, a new privacy sleep shield and blanket, has already grabbed the attention of media and consumers across the globe. Geared towards the traveler, but useful to any person seeking a more restful nap, the Snazzy Napper comes in two sizes that gently shield the eyes and cover the users face, blocking out distracting light and making sleeping anywhere at any time much easier.
Developed by Margarett Wilson, a physician and international traveler that regularly had trouble sleeping on planes, and her daughter Arle Wilson, the Snazzy Napper sleep shield is made of a soft, lightweight material that features a cushioned eye guard with an adjustable nose clip, adjustable straps that wrap around the head, an oval nose opening for easy breathing, and an interior pocket. The Snazzy Napper also folds conveniently into its own product pocket for easy storage.
Debuting its infomercial on August 16, The Snazzy Napper became an immediate viral sensation after CNN's Jeanne Moos interviewed Dr. Wilson and tested out the new sleep shield on the streets of New York City just days later. "Move over Snuggie! The Snazzy Napper is the new blanket on the block," said Moos during the beginning of her report. Following its appearance on CNN, the Snazzy Napper infomercial has had more than a half million views and has been covered by news outlets around the world.
Decorated with Z's and a sheep logo (with sunglasses on), Snazzy Napper's creator makes light of the unconventional design that she developed after she had to resort to putting a jacket over her head in order to sleep while traveling.
"We designed the Snazzy Napper to block out light, provide comfort and warmth, and a more restful travel experience," says creator Margarett Wilson, M.D., M.P.H. "We wanted the Snazzy Napper to look approachable, cheerful and recognizable, while letting others around you know that you are resting. We chose the sheep with shades to add a bit of fun and character, and our design with the moon and Z represents rest and sleep."
"I want every traveler to own and experience the comfort of a Snazzy Napper," adds Arle Wilson. "We recognize the struggles of rest while traveling and it's our hope that the Snazzy Napper allows wary travelers to rest, relax and rejuvenate. We like to describe it as privacy in a bag."
The Snazzy Napper comes in two sizes, the original size that shields the face and an extra large version that can be used as a blanket. The original sells for $14.99 and the extra large for $24.99. For more information or to purchase the Snazzy Napper visit http://www.snazzynapper.com, call 1-877-9-SNAZZY or e-mail info (at) SnazzyNapper (dot) com.
Media Contact:
Caren West / Sean Liphard
Caren West PR
404.614.0006
caren (at) carenwestpr (dot) com / sean (at) carenwestpr (dot) com
###