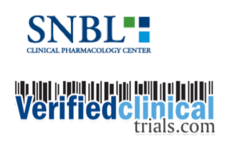 We chose the Verified Clinical Trials (VCT) clinical trials database registry because of their extensive North American network and their scalability
Baltimore, MD (PRWEB) May 07, 2012
Shin Nippon Biomedical Laboratories (SNBL CPC), one of the nation's premier providers of early clinical research services, is pleased to announce its implementation of the Verified Clinical Trials (VCT) clinical trials database registry in attempt to stop dual enrollment in clinical trials. Multiple simultaneous enrollments have become a serious problem in clinical research due to research volunteers who attempt to earn more money by jumping from one study to another without waiting for enough time to lapse between treatments. The professional clinical research volunteer not only creates additional liabilities for the drug manufacturer and the research site, but also places the health of the volunteer at risk and may compromise the integrity of clinical data. SNBL's commitment to clinical research volunteer safety and data quality has led them to implement the Verified Clinical Trials database registry system.
Patrick R. Ayd COO of SNBL CPC stated, "SNBL has always been focused on excellent quality and safety in their clinical trials. It is clear that some research subjects are dual enrolling in clinical trials or not waiting for the appropriate washout period. We chose the Verified Clinical Trials (VCT) clinical trials database registry because of their extensive North American network and their scalability."
Mitchell D. Efros, MD, CEO of Verified Clinical Trials (VCT) stated "We are thrilled to have a company like SNBL join our network and registry. SNBL is a leader in the field and contributes greatly to early clinical trial research. The partnership of the two companies strengthens our network and adds improved quality to the trials SNBL conducts. The Verified Clinical Trials cooperative clinical trials database registry is expansive and includes many of the most major CROs, pharmaceutical companies, research sites, and early phase units across North America."
About SNBL CPC:
SNBL CPC is a 96 bed full service Clinical Pharmacology Research facility based in Baltimore, Maryland. Our team is focused on performing high complex early phase clinical research. We conduct clinical trials from multiple sectors, including, pharmaceuticals, biotechnology, academia, and government. In addition, SNBL CPC offers all ancillary trial support services such as protocol consulting, design, data management, and more for early phase I-IIa studies. SNBL's focus on First In-Human, Dose Escalation, SAD, MAD, Food Effect, Novel Delivery, Adaptive Design, and Infectious Disease challenge studies sets us apart from the vast majority of Early Phase inpatient clinical research facilities. SNBL CPC is pleased to offer our new, state of the art clinical safety laboratory that performs all of the standard safety analyses and moderate to high complexity test procedures.
For further information about SNBL CPC or how our team can help you mange your early phase clinical development program, please contact our client service team at bd(at)snbl-cpc(dot)com or visit our website at http://www.snbl-cpc.com.
Media Contacts:
SNBL CPC
Felipe Troncoso
+1 (410) 706 8894
ftroncoso(at)snbl-cpc(dot)com
About Verified Clinical Trials
Verified Clinical Trials is a forward thinking company developed by experts in the clinical research community to proactively improve research subject safety and data quality in clinical research trials. Verified Clinical Trials halts dual enrollment in clinical trials and defines itself as the world's leader in the field of database registries in clinical trial research. Verified Clinical Trials is the only clinical research database registry that is fully web based and designed specifically to enhance the quality of both early and late phase trials and has the scalability to reach all sites nationally and globally. Verified Clinical Trials offers numerous other value-added services to the clinical research site, CRO, and pharmaceutical sponsor, that prove invaluable with regards to financial and legal issues and liabilities. To RSVP or for more information, visit http://www.verifiedclinicaltrials.com.
Contact For Verified Clinical Trials
Kerri Weingard, ANP, Chief Operating Officer
Verified Clinical Trials +1 516 998-7499
KWeingard(at)verifiedclinicaltrials(dot)com