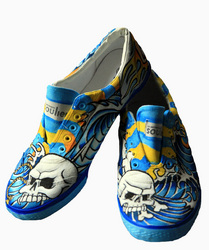 The team at Soulier are very excited to have Caspian on board
(PRWEB) December 6, 2008
Caspian Delooze artwork can be seen hanging on the walls of the music industries elite performers. Commissioned by major record labels for murals of the worlds platinum and gold selling artists, including works for Korn, Pearl Jam, Incubus, Pink, Avril Lavigne, Foo Fighters, Jimiroquai, Billy Joel and MGMT. His unique style, honed skills and enormous talent make him one of the most sort after artists in the music industry today. Soulier Sneakers and Caspian have join forces to offer exclusive one off sneakers for the individual fashionista.
"I am excited to offer my work on a different medium. For me being able to work with Soulier Sneakers is enjoyable and allows me to reach a different audience to the people who normally see my work," states Caspian.
"The team at Soulier are very excited to have Caspian on board," explains Dean Stewart, Marketing manager of http://www.souliershoes.com. "He is an enormous talent and true inspiration for a lot of budding artists. A pair of Caspian Sneakers are a statement of style and even more a statement of ingenuity, originality and fun. Who knows, we just might see a pair of Caspian Souliers turn up at the MTV awards," hints Stewart.
Soulier pronounced Soo-li-yay is a French term for one shoe. Soulier Sneakers was conceived in 2006 and was built on the french concept of less is more. A smart sleek causal sneaker. Soulier distinctive logo has become the forefront for its design ethos.
We make comfortable sneakers for the world to enjoy. Soulier philosophy is simple. Go Anywhere Soulier.
If you'd like more information about this topic, or to schedule an interview with Caspian DeLooze, please call Dean Stewart or e-mail Dean at Soulier
Media Contact - Dean Stewart
Director
Soulier-Go Anywhere
Ph: +61 2 405 508 475
Fax: +61 2 9528 4753
http://www.souliershoes.com
# # #