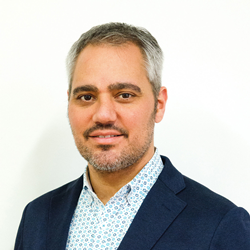 Having Jay join our leadership team to head up AR/VR/MR is like a dream come true given his experience in this space and we can't wait to see what he creates for our clients. - Christopher White, Founder & CEO
NEW YORK (PRWEB) June 04, 2019
Sneakers is excited to announce the newest addition to the leadership team. Jay Miolla joins Sneakers Agency after having built the Number One Augmented, Virtual and Mixed Reality development company in New York, according to Clutch ratings. He will help head business development efforts and lead the expansion into the immersive media markets.
Jay brings his extensive knowledge from his previous roles in Innovation, Digital Strategy, Design and Production to Sneakers, having created cutting-edge experiences for clients such as Johnson & Johnson, SAP, IBM, Novartis, Merck, Samsung, US Army, The Marines Corp and more.
Jay will lead all AR/VR/MR projects at Sneakers and with that, extend the company's capabilities for end-to-end production of 360 Video, Mobile VR and 360 Video Applications, Roomscale Virtual Reality, Volumetric Video, Marker and Markless based Augmented Reality as well as Spatial Computing Mixed Reality.
Please feel free to reach out directly to Jay Miolla to learn more about our capabilities, first hand.
For more information, visit https://sneakersagency.com.
Media Contacts: info(at)sneakersagency.com.