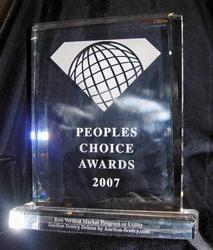 Auction Sentry Deluxe makes it easier than ever to find, track and win the auctions you want to win on eBay.
Flower Mound, TX (PRWEB) August 3, 2007
Auction Sentry Software joined the ranks of Microsoft, Adobe and Corel when they were awarded the Peoples Choice Award at the Software Industry Conference in Denver, Colorado. Their flagship eBay sniping software product, Auction Sentry Deluxe, was voted Best Vertical Market Program or Utility. Users around the world cast votes for the Peoples Choice Awards on web sites such Download.com, PC World and Tucows.
Auction Sentry Software first released their sniping program in 2001. Since then it has grown to be the number one best selling eBay sniping software sold. "Auction Sentry Deluxe makes it easier than ever to find, track and win the auctions you want to win on eBay." Auction Sentry Deluxe tracks a user's eBay auctions and places bids for them just before the auctions close giving them the best chance of winning - while away from their computer.
"Auction Sentry Deluxe places eBay bids over the user's Internet connection just before the auction closes, giving them the last shot at the auction they want to win. This practice is called sniping on eBay and is recognized as the best way to win auctions at the lowest price." Bidding early drives the price up. Snipe bidding gets the bid in leaving no time for others to try to counter your bid. Sniping also hides your interest from other bidders who might bid higher if they know another is interested in the same auction.
Auction Sentry Deluxe will track all of a user's auctions for them displaying up-to-the-minute information on each auction they are watching. The software alerts the user whenever there is activity on any of the auctions they tell it to watch. Sellers on ebay also use the software for tracking all of their listings and calculating their profit or loss on each auction taking into account eBay's listing fees. The software's intuitive easy to use interface takes just minutes to master. Auctions are organized and displayed in a color-coded grid to indicate whether the user is the current high bidder, has been out-bid or has a snipe bid waiting to be placed.
Auction Sentry Deluxe, a Windows application, can be downloaded or purchased securely at http://www.Auction-Sentry.com.
###