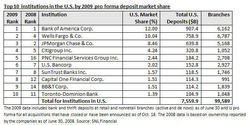 While the top banks have retained their stronghold on the market, industry consolidation has opened the door for other banks to grab a larger slice of the pie
Charlottesville, VA (Vocus) October 22, 2009
Newly released 2009 bank branch deposit data from SNL Financial shows that total U.S. deposits at retail and nonretail branches spiked 7.06% from 2008 to 2009 to more than $7.5 trillion.
SNL's analysis, which includes more than 99,000 branches of FDIC-insured institutions and is pro forma for pending and completed mergers, reveals that the nation's top three banks still control more than 30% of the market share. Bank of America Corp. retained the top spot, with $907.4 billion in U.S. deposits. The Charlotte, N.C.-based bank expanded its share of all bank and thrift deposits across the nation to 12.00%, up from 11.96% in 2008. Wells Fargo & Co. and JPMorgan Chase & Co. rounded out the top three with deposits totaling $758.9 billion and $639.8 billion, securing 10.04% and 8.46% of the market respectively.
Top 10 institutions in the U.S. by 2009 pro forma deposit market share
Four new banks broke into the top 10 in 2009: PNC Financial Services Group Inc., Capital One Financial Corp., BB&T Corp. and Toronto-Dominion Bank. Of these banks, PNC made the largest jump, moving up the ranking 11 spots to fifth place due to its acquisition of National City Corp., which was completed on Dec. 31, 2008. As of June 30, 2008, National City was ranked ninth by U.S. deposit market share.
"While the top banks have retained their stronghold on the market, industry consolidation has opened the door for other banks to grab a larger slice of the pie," said Kris Niswander, Associate Director of SNL's Financial Institutions Group. "Our analysis points to large regional and community banks as gaining the most ground in 2009."
About Branch Deposit Data from SNL
SNL released its 2009 Bank Branch Deposit Data within 72 hours of its issuance by the FDIC, well ahead of any other information provider. SNL matches the newly reported deposits to the previous deposit history of the branch, adding geographic coordinates to each branch and running custom error checks. Additionally, SNL monitors company filings, merger news and government sources every day and makes real-time pro-forma market share updates to the database. Branch openings and closings are reflected in the database as information becomes available.
SNL's 2009 Bank Branch Deposit Data is available exclusively as part of SNL Unlimited service for Financial Institutions. To find out more about SNL Unlimited, contact sales (at) snl (dot) com or 866.296.3743.
About SNL Financial
SNL collects, standardizes and disseminates all relevant corporate, financial, market, and M&A data – plus news and analysis – on more than 3,300 public companies and 50,000 private companies in these industries: Banking, Financial Services, Insurance, Real Estate, Energy and Media & Communications. For more information, visit http://www.SNL.com.
Visit the SNL Press Room to learn more about resources available to members of the media.
SNL Contact
Monica Jenkins
Press Relations Manager
434.951.6951
mjenkins (at) snl (dot) com
SNL Financial
One SNL Plaza
Charlottesville, VA 22902
434.977.1600
Other office locations:
Ahmedabad, India; Arlington, Va.; Boston, Mass.; Boulder, Colo.; Islamabad, Pakistan; Jersey City, N.J.; London; Monterey, Calif.; New York.
###