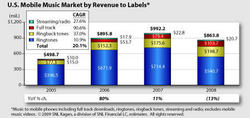 When we ask mobile music insiders what will replace ringtone revenues, RBTs (ringback tones) are most often mentioned
Monterey, Calif. (Vocus) August 6, 2009
According to a recent analysis from SNL Kagan, ringtone sales shrank last year as subscribers learned how to add ringtones to handsets with no direct purchase through their carriers.
Ringtone sales declined 24% in 2008 versus 2007, from $714 million to $541 million, causing overall U.S. mobile music revenues to post an annual decline -- a first for a U.S. mobile content category. Ringtones' share of the total U.S. mobile music market fell from 80% in 2005 to 63% in 2008.
Although the popularity and use of ringtones remains strong, many subscribers have found ways to bypass labels and carriers, or "sideload" music -- editing MP3 files and transferring these user-generated ringtones to handsets. SNL Kagan expects labels will begin pricing ringtones lower to rekindle demand lost to sideloading.
So what's the next revenue generator for mobile music? "When we ask mobile music insiders what will replace ringtone revenues, RBTs (ringback tones) are most often mentioned," said SNL Kagan wireless analyst John Fletcher. "We estimate this category grew at a 37% CAGR from 2005 to 2008, from $77 million to $199 million."
Other mobile music services expected to grow in importance going forward include full-track download services and ad-supported mobile streaming radio. Overall, the U.S. mobile music market grew at a 20% CAGR from 2005 to 2008.
This report was published in SNL Kagan's Wireless Investor feature and is available via the SNL Kagan Unlimited Information Service. For more information on SNL Kagan Unlimited, contact Sales at 866.296.3743; SNLKaganSales (at) snl (dot) com.
About SNL Kagan
SNL Kagan, a division of SNL Financial LC, is a comprehensive resource for financial intelligence in the media and communications sector, including the broadcasting, cable, entertainment, motion picture, telecom, wireless, satellite, publishing and new media industries. The SNL Kagan suite of products integrates breaking news, comprehensive data and expert analysis into an electronic database available online and updated around the clock. For more information, visit http://www.snlkagan.com .
Visit the SNL Press Room to learn more about resources available to members of the media.
SNL Contact
Monica Jenkins
Press Relations Manager
+1.434.951.6951
SNL Financial
One SNL Plaza
Charlottesville, VA 22902
434.977.1600
Other office locations:
Ahmedabad, India; Arlington, Va.; Boston, Mass.; Islamabad, Pakistan; Jersey City, N.J.; London; Monterey, Calif.; New York.
###