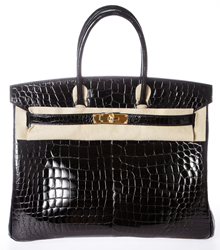 (PRWEB) December 08, 2014
SnobSwap.com, the leading online marketplace for shopping the nation's best designer consignment boutiques, is celebrating the holiday season with a special Hermès promotion.
SnobSwap is giving shoppers $200 off any Hermès item over $2,000. The Hermès collection on SnobSwap is of the highest caliber. All items are fully authenticated by experts and are under SnobSwap's Buyer Protection program.
No longer exclusive to the uber rich, shoppers now have access to a diverse collection of new and gently used Hermès Birkins, Kellys, wallets, scarves and shoes. One exceptionally rare piece is a new Noir 35cm Porosus Crocodile Birkin, which is being sold by boutique partner On Que Style on SnobSwap.com.
Named after British born actress and singer Jane Birkin, the Hermès Birkin handbag is the timeless "It" bag. The black and gold Noir 35cm Porosus Crocodile Birkin is rare due to its color combination and Australian Porosus Crocodile skin which must be flawless, according to Hermes standards before hitting the store. International Business Times reported there has been a waiting list of at least six years for this handbag. The Porosus Crocodile is the most prestigious of all Hermes materials.
"One of the missions of SnobSwap is to provide affordable luxury to all through our consignment boutique partners. Our boutique partners have clients with amazing closets looking to pass on their pre-owned designer items and recoup some cash value. It's a win-win situation for all," says Emily Dang, CMO of SnobSwap.
Shop the Hermès collection on SnobSwap here, and use the code: HERMES20. Offer ends 12/31/2014.
ABOUT SNOBSWAP
SnobSwap is the premier online platform to sell and shop pre-owned designer clothing, handbags, shoes and accessories. SnobSwap is the only online marketplace that hand-selects the best consignment stores and top closets to sell online.