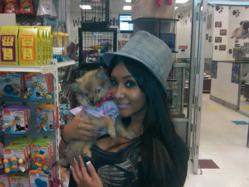 Snooki might benefit from reading the valuable information on our site before she gives birth. It could save her, and her sweet dog, some potential stress.
Boca Raton, FL (PRWEB) August 10, 2012
Nicole "Snookie" Polizzi is a cast member on the wildly popular MTV reality show, Jersey Shore. Since Jersey Shore debuted in 2009, Snooki has gained huge popularity. She's one of the highest paid reality stars, according to Radar Online, bringing in $150,000 per episode.
The popular reality star from New York has made numerous television appearances, from Letterman, Tonight Show and The Today Show. She has graced magazine covers and is regularly covered by gossip websites. Snooki has also become a best selling author and maintains a line of cosmetics and perfume.
In the fall of 2010, Snooki bought a Pomeranian puppy from a New York City pet store. Miss Polizzi named her tiny dog "Gia" and immediately began posting photos of her furry friend to Facebook and Twitter. In one of her tweets about the puppy, she star tweeted, ""So I'm in a meeting with Gia in her cute pink sweater and she decides to throw up all over my pants. God I love this dog."
In March of this year, Snooki announced she is pregnant with her first child. With the birth of her baby boy right around the corner, the popular dog news site, Dogington Post wonders if Snooki – and her furry kid – are ready to welcome a new baby into the house.
The online dog news source published a photo of Snooki with Gia perched atop her pregnant belly along with several articles about how pregnancy and babies can affect dogs. Including information on how dogs react to pregnancy, how to introduce your dog to a baby, and how bringing a baby into the home can affect a pet dog.
"Bringing a baby into the home can certainly alter your relationship with a dog, " said Brandy Arnold, Content Editor for Dogington Post, "but there are ways to handle it. Snooki might benefit from reading the valuable information on our site before she gives birth. It could save her, and her sweet dog, a lot of potential stress."
The site also published information about what breeds of dogs are best with children and offered training tips for new pet owners.
For more information about Dogington Post and their effort to reach out to Snooki and other dog parents expecting new babies, visit http://dogingtonpost.com and check them out on YouTube.
About Dogington Post:
DogingtonPost.com was created for the love of dogs. It promises a forum of informative articles, newsworthy dog stories, health and breed information, and heartwarming videos. The site addresses current issues affecting dogs and their human parents – from serious health concerns to lifestyle issues on feeding, grooming and the overall well-being and mental health of dogs. It is the Internet newspaper, all about dogs.