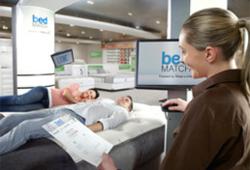 Helping Take The Guesswork Out Of Buying A Bed
Victoria, Australia (PRWEB) February 29, 2012
Buying a bed can be a very confusing task, with so many options to choose from. The pressure to make the right decision for that all-important investment can be daunting when confronted with beds resembling a 'sea of beige'.
The bedMATCH™ system, powered by Sleep to Live, is stocked exclusively at Snooze stores and can help to take the guesswork out of buying a bed by matching customers to a selection of mattresses that better meet their sleep needs.
Snooze Managing Director, Simon Beaty commented on this Australian first in bedding saying, "Buying a new bed is a significant purchase, so we're pleased at Snooze to be able to deliver peace of mind to our customers as part of the process. Considering we spend around a third of our life in bed, it's important to ensure our choice of mattress is the right one."
There are three easy steps to using bedMATCH™ in store:
1. Answer some simple questions about sleep preferences, and any aches and pains
2. Lie down on the bedMATCH™ test bed whilst it takes a number of measurements; the entire process takes only about five minutes
3. The bedMATCH™ system will suggest a range of mattresses stocked at Snooze that may better suit individual sleep needs, helping to create a shortlist to narrow that final choice
The customer can then make their final decision after testing this smaller range of beds. Based on years of research and developed by some of the world's leading sleep scientists, the bedMATCH™ system is able to help match bodies to beds across Snooze's range of mattresses including well-known brands Sealy and Sleepmaker, alongside Slumberland, Madison and My Side™ which are found only at Snooze. For more information on sleep research, visit http://www.sleeptoliveinstitute.com/research.
Visit http://www.snooze.com.au to learn more about bedMATCH™ and find your nearest store to help improve the quality of your sleep today.
# # #