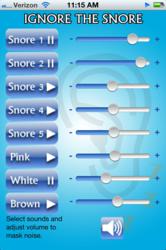 West Bend, WI (PRWEB) February 23, 2012
Ignore The Snore is a remarkable new mobile application available on the App Store right now for only $1.99.
Ignore The Snore fights fire with fire via "snore mask" technology. This technology uses steady snore samples to mask the rising and falling sporadic snoring that keeps would-be sleepers up at night.
Ignore The Snore isn't just for masking snoring – it can also be used as a traditional white noise device to block out other disturbing noises.
Since no two sleepers or snorers are the same, users can choose from various steady snore samples, ambient sounds, or a personalized mix. Mixes allow for individual volume settings for each sound.
Ignore The Snore can be used via the built in speaker, a docking device, or with earbuds.
Ignore the Snore aims to bring welcome respite to the millions affected by snoring sleepmates, and to return banished snorers to their own beds.
Ignore The Snore was conceived and developed by BluGap Technology and Marketing, a Wisconsin based software and social media marketing firm.
More information on Ignore The Snore can be found at http://ignorethesnore.com and at the firm's website at blugap.com
###