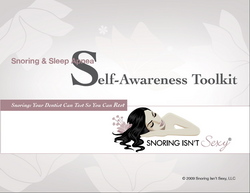 Snoring: Your Dentist Can Test So You Can Rest.
New York (Vocus) May 28, 2009
There is a not-so-silent killer in this country, and most who are vulnerable to it, don't even know. Snoring is more than an annoyance. It's both a symptom and a condition that signals serious, potentially deadly, health problems. The member dentists of Snoring Isn't Sexy® have united to promote the awareness of the consequences of Snoring and Sleep Apnea with a new campaign called "Snoring: Your Dentist Can Test So You Can Rest."
Snoring and Obstructive Sleep Apnea go hand-in-hand, and can lead to heart disease, stroke, brain damage, Diabetes, obesity, high blood pressure, and accidental injury. Your dentist can not only help detect whether you have these conditions with a screening evaluation, but offer a possible solution in the form of an oral appliance. Many patients who suffer from snoring and OSA cannot tolerate CPAP machines; likewise they have decided against surgery, which is irreversible.
In conjunction with the Public Awareness Campaign, Snoring Isn't Sexy, LLC is releasing an e-book entitled "Snoring and Sleep Apnea Self-Awareness Toolkit" available at no cost at http://www.snoringisntsexy.com. The toolkit contains information about snoring and sleep apnea, contains self-testing questionnaires, and advice on choosing a dentist who has received post-graduate training in sleep medicine.
About Snoring Isn't Sexy, LLC
Snoring Isn't Sexy, LLC was founded in 2008 by Laurence I. Barsh, DMD, a dentist who has been involved with sleep medicine since 1992 and who now devotes full time to educating the public about dentistry's role and responsibility in the recognition and management of snoring and sleep apnea. Dr. Barsh and the dentists associated with
Snoring Isn't Sexy, LLC feel strongly that management of sleep-breathing disorders is a shared responsibility of both the medical and dental professions.
Snoring Isn't Sexy, LLC consists of independently owned and operated affiliated offices. Visit http://www.SnoringIsntSexy.com for a directory of all participating dentists.
Contact:
Laurence I. Barsh, DMD
888.203.0488
315 East 70th St., 7H
New York, NY 10021
###