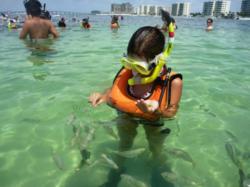 The East Jetties near the Destin Harbor offers a rock barrier and has several fish and marine wildlife nearby.
Destin, FL (PRWEB) February 17, 2012
Destin has been known for many years of its white sandy beaches and emerald green waters. In fact, the water is so clean and clear that divers and snorkelers come from all over the country to visit. Over the recent years, snorkeling has become a very popular activity for families because its affordable, educational, and fun. TripShock.com sells several different snorkeling excursions on the Gulf Coast due to the demand for this activity.
There are several locations to snorkel in Destin, but there is one location in particular that offers the best experience. The East Jetties near the Destin Harbor offers a rock barrier and has several fish and marine wildlife nearby. The water is fairly shallow so kids can snorkel and have a great time as well. There are deeper areas for those wanting to explore, but this is only advised for novice swimmers since the current can be strong at times.
Those that wish to snorkel near the local beaches should not waste their time. The incoming waves from the Gulf make it nearly impossible to see anything. Sometimes the wake will calm down and this opens up an opportunity to snorkel, but its typically rare for this to happen.
The best part about snorkeling is that the small fish are not afraid to say hi. Bring some frozen pears or corn and watch the fish go crazy. It's also typical to see dolphin, crab, hermit crab, ane more.
Snorkeling tours typically start towards the end of April as the water needs some time to warm up. The last tours will depart near the end of September. Cost is pretty much the same across the board as tours run about $30 per person (Children are typically cheaper). It's recommended to book online with TripShock.com for the best snorkeling deals.
About TripShock.com
TripShock! ® is the one and only travel agency that enables travelers to book tours and activities online directly for the Northern Gulf Coast. TripShock! offers trusted reviews from real travelers, photos, videos and other planning tools to help create the perfect Gulf Coast vacation. TripShock! attracts more than 500,000 visitors annually and partners with over 100 activity and lodging providers from Florida to Louisiana.
###