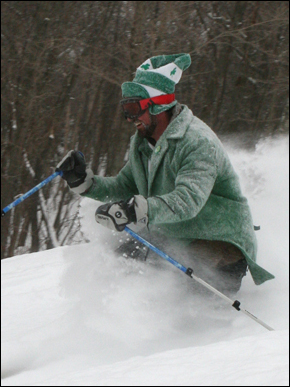 With the Sprint U.S. Freestyle Championship here next weekend, followed by the Bud Light Bear Mountain Mogul Challenge March 31, all this new snow will make for some outstanding spring skiing and snowboarding conditions
Killington, Vt. (Vocus) March 17, 2007
The third major Nor'easter of the season has proven that Killington Resort, the "King of Spring" and the largest ski and snowboard resort in Vermont, has the luck of the Irish on St. Patrick's Day with 18 inches of new snow.
Killington currently has 193 open trails, served by 31 lifts and powder surface conditions. Weather forecasts are calling for snow to continue through Tuesday as the latest storm brings Killington's season total to 189 inches, including 46 inches since March 1.
"With the Sprint U.S. Freestyle Championship here next weekend, followed by the Bud Light Bear Mountain Mogul Challenge March 31, all this new snow will make for some outstanding spring skiing and snowboarding conditions," said Dave Rathbun, vice president of brand management and sales at Killington Resort.
The "King of Spring" features a jam-packed events schedule through the third week of April, including:
March 31-April 1: Bud Light Bear Mountain Mogul Challenge, featuring live music from Blue Öyster Cult
April 7-8: 14th Annual Spring Loaded, Featuring live music by Kids in the Hall
April 8: Easter Sunrise Service and Easter Egg Hunt
April 14: 11th Annual Sunshine Daydream Festival
April 21: 26th Annual Pond Skimming
*VIDEO footage of the Skiing Leprechaun Available in MPEG format by clicking HERE!
*Hi-Res PHOTOS of the Skiing Leprechaun Available HERE!
"King of Spring" Ski and Stay Lodging Packages
Celebrate Killington as the "King of Spring" with Ski & Stay packages starting at $91 per person / per night. Plus every three-day and longer Ski and Stay package features added value, including: One free admission per lift ticket to the Snowshed Adventure Center, Kids Zone Arcade and Snow Action park; free admission to the Wobbly Barn, The Outback and Tabu nightclubs (ages 21 and over); plus special discounts at area businesses, including 10% off all food at Casey's Caboose, Birch Ridge Inn, Wally's American Grill, The Santa Fe Steakhouse, Cedars Restaurant and Outback Pizza. More benefits to come! Simply present your "King of Spring" credential to receive these extra benefits. (Added value benefits are available until the supplier of each benefit closes, and may expire without notice). Tax and service fees are not included. Some restrictions apply. For booking, visit http://www.killington.com or call 1-800-621-MTNS.
###